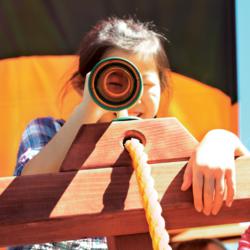 Raleigh, NC (Vocus/PRWEB) March 24, 2011
Before every new swing set season, months of development go into the new line from Woodplay Playsets. The newest wooden swing sets from Woodplay are no exception. In 2011, the result is more than 65 unique playsets with practically endless configurations. Among the most important objectives of the new line is to inspire unstructured play. New Woodplay playsets let parents select different deck heights, regular or larger decks, and add monkey climbers, sky boxes, or a host of other accessories. Each component is designed to capture a child's imagination for hours on end, leading to active and unstructured play time.
Kids need time to stretch and create and lose themselves in their own imaginations – the kind of time a child can take for making up adventures in a playhouse or dreaming on a swing set or scooting down a slide. "Play is really important for young children, for social and cognitive development," says psychologist Kathy Hirsh-Pasek, PhD, a child development researcher at Temple University.
Investing in a high-quality wooden swing set brand such as Woodplay is one way to make sure kids get that time. Wooden Playsets promise not only fun for the whole family, but valuable learning opportunities for kids for hours on end.
Woodplay, the original redwood playset company, offers endless combinations of slides, playhouses, tunnels, swing sets and climbing surfaces to help kids choose to play in the yard instead of watching a screen indoors. Through unstructured time, kids find out who they are and what they're capable of. Kids also learn they can depend on themselves for fun. If children's days are completely scheduled, child educators and researchers suggest it's only natural that children will come to expect their lives to be planned by outside sources with little effort on their own part.
Before video games, computer programs and organized sports ate up more of kids' time, unstructured play was a built-in part of kids' daily routine. Today, with competing activities and many parents' fears that kids will fall behind other children without full schedules, children have eight fewer hours of free, unstructured playtime per week than they had 20 years ago, according to a study by Tufts University psychologist David Elkind, PhD.
Woodplay can help families find that free time again.
Decades of research show kids learn best through active, exploratory play. And that play, in turn, will also help them in school. By taking turns on a slide, making friends on a swing set, negotiating rules and sharing space, kids hone their skills in problem solving, thinking creatively, and practicing self-control.
Repeating activities such as trying to go faster on a slide or swinging higher and higher, or racing another child up a ladder help build strength, coordination, competence, confidence and sense of body awareness in space.
Unstructured time on a playset can turn swing sets into jungle vines, playhouses into pirate ships and slides into escape chutes, all the while helping children grow mentally, physically and socially.
Woodplay wooden swing sets give them the reason to get outside, get moving and get thinking.
# # #