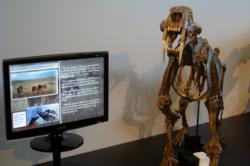 People expecting to see Yosemite have instead been enjoying the many other attractions throughout the region."
Oakhurst, CA (Vocus/PRWEB) March 24, 2011
The late season storm that has brought several inches of rain to the valley regions and feet of snow to the higher elevation has left Yosemite National Park without power, and the roads in to the park covered with trees. The weather has also left many vacationers wondering what else to do with their time according to Yosemite Sierra Visitors Bureau staff.
"We've had a lot of guests come through the visitor center looking for things to do because they can't get in to the park. They've all gone away happy and with an itinerary full with the many options available throughout the area," said Jarrod Lyman, Director of PR for the Yosemite Sierra Visitors Bureau, which promotes Madera County, the southern Yosemite Gateway region.
Lyman said several spots have garnered a lot of interest as people look for ways to spend their time.
"Attractions such as Gallery Row in Oakhurst, the Consortium of Southern Yosemite Museums throughout Oakhurst, Coarsegold and North Fork, Chukchansi Gold Resort and Casino in Coarsegold, the Madera Wine Trail wineries in Madera and the Fossil Discovery Center in Chowchilla have been the most popular," he said.
Gallery Row is a collection of art galleries featuring numerous works from various renowned artists. Paintings, photography, sculpture and more are all on display. http://www.yosemitegatewaygalleryrow.com/
The Consortium of Southern Yosemite Museums is a collection of historical museums throughout the region that showcase the history of loggers, gold miners and other pioneers that developed the area more than 100 years ago. http://southyosemitemuseums.org/
Chukchansi Gold Resort and Casino is the largest tribal gaming facility in central California and a popular spot for both gaming and dining. The seven restaurants combined with Las Vegas-style gaming floor have made it a favorite for visitors who return again and again. http://www.Chukchansigold.com
The Madera Wine Trail is a collection of nine wineries from Oakhurst on down to the valley floor in Madera. Award winning wineries are located throughout the wine trial with numerous varieties produced using locally grown fruit. "Central California is known by some as California's true wine country, as more wine and wine-grapes come from this region than anywhere else. Touring the Madera Wine Trail, people see the long history this region has come to life in the wines produced here," said Lyman. http://www.maderawinetrail.com
The Fossil Discovery Center in Chowhilla is the region's newest attraction. Nearly 20 years ago, crews working on a new section of landfill adjacent to where the Fossil Discovery Center now stands, found what turned out to be the tusk from a Colombian Mammoth. Paleontologists were brought in and anticipated working on site for only a few weeks. Almost two decades later more than 20,000 fossils have been unearthed from over 40 species in what is the largest Pleistocene era fossil bed in the western US. Mammoths, sabre-toothed cats and other animals once roamed the area 700,000 years ago, and are now on display. http://www.maderamammoths.org.
###