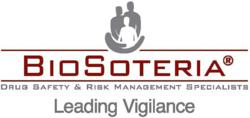 As an added service and a continuing education offering to our clients and the drug safety professional community, we are pleased to offer this review and interpretation of the new FDA Final Rule
Emeryville, CA (Vocus/PRWEB) March 24, 2011
BioSoteria, Inc., Drug Safety and Risk Management Specialists, continue to be at the forefront in responding to the recent announcement of the ruling by FDA on safety information during clinical trials. A recently published article co-authored by BioSoteria's President & CEO, Sally Van Doren, PharmD and Senior Vice President of Pharmacovigilance and Risk Management, James Buchanan, PharmD, helps drug safety professionals and study sponsors navigate through the complex rule on the new investigational new drug (IND) safety reporting requirements during clinical trials.
The FDA has announced changes to the US regulations on IND safety reporting, which go into effect on March 28, 2011. To access the article and learn more about how these regulation changes will impact your clinical trial conduct and IND safety reporting practices, go to BioSoteria Publications to download this peer reviewed article with home study credits, "The New FDA Final Rule on IND Safety Reporting: Implications to Your Clinical Development Program or view the article in the April 2011 issue of the ACRP Monitor.
"As an added service and a continuing education offering to our clients and the drug safety professional community, we are pleased to offer this review and interpretation of the new FDA Final Rule and to assist clients in rapid implementation of standard operating procedures and practices to ensure compliance by the new rule effective date", says Dr. Van Doren.
About BioSoteria
Founded in 2007 with a strong vision of a progressive drug safety and pharmacovigilance consulting services and education, BioSoteria serves the outsourcing needs of the pharmaceutical industry. From strategic risk management consulting services and full-service drug safety operational capabilities to world-class award winning pharmacovigilance training and education programs, BioSoteria provides unmatched experience, expertise, and leadership to support your company's efforts to maximize your product's benefit-risk profile. For more information about BioSoteria and our safety consultative and training services, go to http://www.biosoteria.com.
# # #