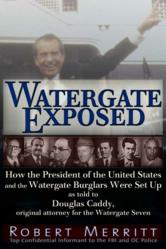 Eugene, OR (Vocus/PRWEB) March 24, 2011
The recently released book Watergate Exposed by Robert Merritt and Doug Caddy tells the inside story of the Watergate affair and also exposes the dangerous life of a Confidential Informant. So much information was uncovered that a separate website has been built to handle the overflow of new revelations.
http://www.watergateexposed.com features new articles and late-breaking news about the cover-up and what it means to us today. Even though Nixon's removal from office by disgruntled members of his own administration occurred many years ago, the forces behind the scenes in our own government still have the ultimate power. This is amply illustrated by posts about the Counter Intelligence program (COINTEL) that spies on American citizens and stories detailing the CIA's involvement in international drug trafficking (the real reason for the Vietnam War).
In addition, book co-author Caddy relates newly uncovered information about the sinister Crimson Rose operation that spearheaded the discovery of the Watergate burglars and also permanently silenced anyone with too much knowledge. Further information will see the light of day in coming posts. Students of Watergate as well as anyone interested in how secretive groups control the country, up to and above the President, will want to visit the site frequently.
Watergate Exposed proves that the break-in at the Democratic National Committee headquarters in 1972 was a set-up from the start, proving that even the president wasn't safe from behind-the-scenes machinations.
However, Watergate is only one part of the story of Robert Merritt. In true tales straight out of a spy novel, Merritt recounts his years as an informant, spying on activists, blacks, the gay community, straights, the Jews, anti-war activists, or anyone else whom the government thought was a potential threat or enemy. He was asked to assassinate enemies of the state, including co-author Caddy, and was the target of assassination threats himself.
Watergate Exposed is filled with stories of Merritt's life, including years on the run, drug abuse and rehabilitation, killings, double crosses, jail time and being a part of the rampant corruption of government insiders. He claims he was acting on blind faith and in support of America, until he finally saw that the line between the good guys and the bad guys was growing ever thinner.
The book is available at http://www.trineday.com
###