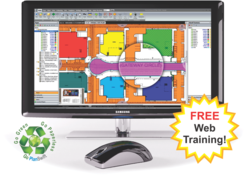 "Both new and existing customers are going to find that this is the takeoff program they have been looking for, the one that has it all."
Pittsburgh, PA (Vocus/PRWEB) March 24, 2011
Tech Unlimited, Inc., the company that developed PlanSwift, the easy-to-use construction takeoff software program, released the company's new software platform 9.0. PlanSwift Professional 9.0 is the largest roll-out of tools, features and upgrades in the company's history. PlanSwift 9.0 also provides an open platform for independent developers to build software plug-ins.
James Purpura, PlanSwift's President, said "The 9.0 version is the culmination of all our customer's helpful suggestions and valuable product input shared with PlanSwift over the years. This release looks to be a game changer in our industry."
The new interface includes:

Open multiple pages as tabs for faster page browsing
Undock & takeoff multiple pages at the same time
Hyperlink to details on other pages, websites or documents
Organize plan pages into folders
Box-mode takeoff for area & linear measurements
Enhanced notes and highlighting tools
Five default reports with the ability to add unlimited custom reports
Database to calculate items and assemblies for materials takeoffs
Quick search and page window search features
Docking system and tabbed browsing so windows don't get lost
Hover navigation; perfect for touch screens
Multi-select capability with shift or ctrl keys
Matthew Miller, PlanSwift's Director of Marketing, noted that the reporting in 9.0 has been greatly enhanced with pre-built views and customizable page layouts.
"Calculations can be made in reports and item properties can be modified directly from the screen. This is the largest launch of our software to date and we are very eager to show it off."
Darryl Holloman, PlanSwift's Head of Development, said "The real power of the new version is not only what it can do now but what it will be able to do in the near future. Version 9.0 is a very powerful development platform which has an open API so that people can build plug-ins which can be sold to a PlanSwift user similar to the iPhone app store. A plug-in can include estimating tools, pricing sheets or even third party software integration."
Key developers features include:

Integration to any existing ADO database for custom lists such as items or customers
Documentation for developers to build on PlanSwift's API
Ability to design form inputs and use for editing properties
Folder structure capability for grouping images
Marco Spalla, PlanSwift's International Reseller Manager, is pleased with the company's continued overseas success and is excited to offer language packs in this edition that provide the ability for the software to operate in multiple languages along with enhanced metric compatibilities.
"Both new and existing customers are going to find that this is the takeoff program they have been looking for, the one that has it all."
Find a full list of 9.0 updates at: http://www.planswift.com/kb/entry/336/. To see why more leading companies are saving time and money with PlanSwift, industry professionals are offered a free 14-day, fully functional download of PlanSwift at http://www.planswift.com. A free one-hour demonstration with an experienced estimator is also included to maximize the trial offer.
About PlanSwift
PlanSwift, a subsidiary of Tech Unlimited, Inc., is a leading provider of takeoff and estimating software to industry professionals. The PlanSwift Company has developed software to enhance the construction industry's daily takeoff and estimating needs. More than 10,000 industry professionals, in over ten countries, use PlanSwift to help them complete more precise and accurate bids every day.
If you would like more information about the partnership or PlanSwift, contact Matthew Miller at (888) 752-6794 ext. 4 or email marketing(at)planswift(dot)com.
###