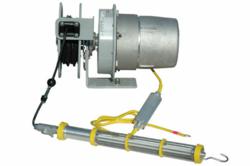 On magnalight.com operators can see pictures that show that the EPL-FL1524LED-50 series explosion proof LED lights outperform our fluorescent version of that light
Kemp, TX (Vocus/PRWEB) March 24, 2011
Larson Electronics added a Class 1 and Class 2 rated explosion proof LED drop light on an explosion proof reel to its wide array of hazardous location lighting on magnalight.com. Featuring lower operating temperatures, brighter light and drop proof durability, the EHL-FL1524LED-50-HR explosion proof hand lamp with 50 foot SOOW cord reduces the need for re-lamping and maintenance. Equipped with a 15 watt LED bulb, the Class rated LED hand lamp is suitable for areas requiring UL Class 1 and Class 2 lighting. The explosion proof reel offers a Class 1 Division 1 and Class 2 Division 1 rating, so that both the reel and the trouble light can be installed in hazardous location areas. The explosion proof LED drop light is also available with a 100 foot SOOW cord. This particular LED trouble light is extremely popular in the aerospace industry, but we have a need to factory equip this light with an explosion proof reel to meet the needs of our military customers.
"On magnalight.com operators can see pictures that show that the EPL-FL1524LED-50 explosion proof led lights outperform our fluorescent version of that light, said Rob Bresnahan with Larson Electronics' magnalight.com. "These LED explosion proof drop lights generally don't get above the ambient temperature of the area. The solid state electronics make the LED light drop proof and 50,000 life hour LED rating enables operators to avoid re-lamping for more than 5 years, even if the lights are used 24/7. So our explosion proof LED lights and drop lights create a safer, lower maintenance environment for our military, industrial and petrochemical operators. By adding an explosion proof reel to these lights, operators can avoid tripping on or damaging longer cord lengths, which could result in downtime or repairs."
Larson Electronics' magnalight.com offers a wide array of UL Class 1 and Class 2 rated LED lighting, including surface mount linear fluorescent replacements, explosion proof LED flashlights and pedestal mount LED lighting for hazardous location areas. You can learn more at magnalight.com or 1-800-369-6671 (1-903-498-3363 international).
###