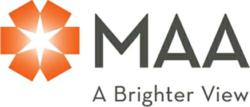 Our new site significantly expands our ability to reach out to apartment seekers and help them find a new home.
McLean, VA (Vocus/PRWEB) March 24, 2011
NavigationArts, a strategic web consultancy, today announced the launch of a new website for Mid-America Apartment Communities (MAA), a leading public real estate company with an award-winning portfolio of more than 40,000 apartment homes across the Sunbelt region of the United States. NavigationArts worked with MAA to deliver a new web presence that helps drive brand awareness, improves user interactions, enables MAA to have significantly more control over website operations, and eases the maintenance and expansion of its digital presence in the future. The redesigned web experience showcases the new MAA brand identity and provides increased functionality for current residents, prospects, and investors.
"Our new site significantly expands our ability to reach out to apartment seekers and help them find a new home. The apartment search and mapping features allow visitors to easily find a community that fits their needs and start the leasing process," said Melintha Ogle, MAA Director of Marketing. "The site also provides relevant resources for job seekers, current residents, and investors."
As part of the redesign of MAA's corporate and 158 apartment community websites, NavigationArts developed a persona-based user experience that quickly enables users to self identify and locate content specific to their needs. The new web experience includes a custom-built faceted search application that allows users to find real-time apartment availability information. This optimized user experience will boost lead generation and electronic leasing processes. NavigationArts also designed a fresh visual signal that balances the new MAA corporate brand with the unique culture and appeal of each of its communities.
Through complex integrations with numerous third-party systems, the new MAA web presence will be maintained through one centralized Content Management System (CMS). NavigationArts implemented a Sitecore CMS solution that provides the infrastructure and tools to facilitate delivery of engaging and relevant content that meets the individual needs of current residents, potential customers, investors, and MAA employees. Sitecore is a robust technology platform that supports scalability, maintainability, and flexibility.
"The key to having an engaging website is to be consistently improving it, and we've given MAA the tools to do so," said Mark Davenport, NavigationArts Senior Consultant and Project Manager. "We designed the system with ease of use in mind. From updating copy to creating new communities, MAA employees can get their jobs done quickly and without advanced technical skills."
NavigationArts continues to work with MAA on numerous site enhancements and additional integrations including the development of a mobile optimized web experience as well as an application to support rental prospects.
The new website can be found at http://www.maac.com.
About NavigationArts
NavigationArts is a full-service web consultancy specializing in web strategy, user experience design, and technology. We help our clients meet their business needs by optimizing their web presence for communication, e-commerce, community building, and more. We help our clients solve challenging problems by bringing together highly experienced cross-functional teams drawn from analytical, creative, and technical backgrounds. At NavigationArts, we believe that user experience is the only sustainable competitive advantage online. Our mission is to create online experiences that are most satisfying for our users and most valuable for our clients. For more information, go to http://www.navigationarts.com.
###