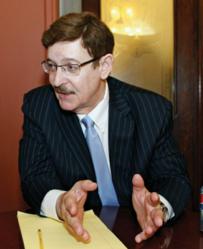 Professor Nadelstern's deep understanding and extensive history with school reform and preparing underserved students for college make him a must hear for anybody working to improve schools
New York, NY (Vocus/PRWEB) March 29, 2011
The Middle College National Consortium (MCNC), a pioneer in the Early College/Dual Enrollment school movement, is pleased to announce that renowned educator Professor Eric Nadelstern will be the keynote speaker at its annual conference in July. The theme of this year's conference will be "How Do You Become a College Ready School".
Professor Nadelstern, who was the founding principal of International High School, a MCNC member, will trace the origins of his school reform efforts starting with his work with new arrivals at International HS and concluding with his leadership at The New York City's Department of Education's Small School Initiative. Additionally, there will be workshops and panel discussions on issues related to College Readiness-Key Cognitive Skills that students need in college; College Knowledge-what do students need to know in order to succeed in college; and Communities of Practice that lead to success. Dr. Cecilia L. Cunningham, founder and President of MCNC, stated that "Professor Nadelstern's deep understanding and extensive history with school reform and preparing underserved students for college make him a must hear for anybody working to improve schools."
Professor Nadelstern is presently a Professor of Practice in Educational Leadership at Teachers College, Columbia University; Visiting Senior Fellow at The Woodrow Wilson Foundation; and a Transition Team Member for the newly appointed New Jersey Commissioner of Education. Prior to his present positions Professor Nadelstern was the Deputy Chancellor for School Support and Instruction with the New York City Department of Education where he led the Department's Small School Initiative.
The Middle College National Consortium, headquartered in New York City, is a leader in the movement to establish and sustain high school/college dual enrollment as a viable and necessary educational model. Middle College National Consortium's mission is to develop small schools in which high school students, especially those who have been previously underserved by their former schools, can earn both a high school diploma and either an Associate's Degree or transferable college credits upon graduation.
The MCNC Summer Professional Development Institute will be held from July 7-July 10, 2011 at the Hyatt Regency on the Hudson in Jersey City, New Jersey. To learn more about this event, or register, please click here.
To learn more about the Middle College National Consortium, visit us at (http://www.mcnc.us/) for a comprehensive overview of our history, design principles, current work and achievements.
Contact information
Tony Hoffmann
Middle College National Consortium
http://mcnc.us
718-361-1981 X6
thoffmann(at)mcnc(dot)us
# # #