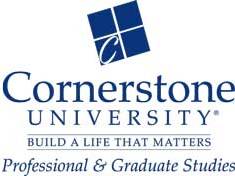 "This is a practitioner's program. The health care industry told us what they wanted and we have created a program to answer that (need)," said Dr. Sandra Upton.
Grand Rapids, MI (Vocus/PRWEB) March 26, 2011
In March, Cornerstone University's Professional & Graduate Studies (PGS) program launched its first cohort of students for the newly created Health Care Master of Business Administration (MBA) program. For almost two years, Dean of Business Programs at PGS Dr. Sandra Upton and Executive Director of Sunset Retirement Community and PGS Adjunct Professor Chad Tuttle conducted focus groups, designed courses and recruited faculty for this program. Now, adults will have the opportunity to become industry leaders with Cornerstone's Health Care MBA.
"This is a practitioner's program. The health care industry told us what they wanted and we have created a program to answer that (need)," said Upton.
Chyrisha Brown, Cornerstone alumna and former University of Michigan Hospital employee, recently moved back to her hometown of Grand Rapids, Mich., in part to be near family and in part because of the new Health Care MBA program.
"I knew an MBA would open a lot of doors and I knew I wanted to work in health care; then I heard about the program and talked to admissions counselor Leslie Iverson. It's all falling together in a way no one could have structured," said Brown. "What stands out are the program's faith component and its cultural perspective."
The core needs of the industry and components of the Health Care MBA include business acumen, cultural intelligence, leadership skills and global perspective. Cornerstone adds a Christian perspective to both deepen and broaden its distinctive program. The program's aim is two-fold: to provide leadership development for clinicians who want to expand their skills (e.g., doctors, nurses, lab technicians) and a health care focus for those already trained in business leadership.
"We want to help health care businesses position themselves with a great pool of employees. We want to train individuals just entering the field, but also help grow employees who are already there," said Upton.
The Health Care MBA is an accelerated, 18-month, 39-credit program that provides baseline business administration skills with a health care focus. For example, a finance course may examine third-party payments and hospital operating budgets. Throughout the program, students take one course at a time, one night a week. Also, students begin and end the program with the same cohort of students. In addition, each student must participate in a 10-day overseas trip to Central Europe, China or South Africa where they visit hospitals and attend business meetings and cultural events.
Brown is excited about gaining global experience, eager to put her classroom knowledge into action. Real-world experience is part of what drew her to the program.
"Global is exactly where it's going," said Brown. "I'll get to apply the things I learn, and not just right outside my back door."
As a leader in the health care industry, Tuttle is thrilled with the program. "There are lots of MBA programs out there, but Cornerstone and PGS have spent much time finding out what is specifically needed in the workplace. I can point people toward a program such as this as the next step in their careers. And I know a lot of people in the industry who are thrilled as well."
For more information about PGS and the Health Care MBA, visit pgs.cornerstone.edu.
# # #