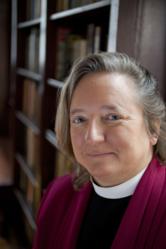 Cambridge, MA (Vocus/PRWEB) March 24, 2011
"Christians must reinterpret the bible. With the help of biblical scholars and God's Spirit, we must reject the authority of those passages and interpretations that hurt human beings, other beings, and the Great Source of all being," writes feminist theological scholar, Carter Heyward. Heyward will speak at Episcopal Divinity School in Cambridge on April 14*, and writes in her new book, Keep Your Courage: A Radical Christian Feminist Speaks, "No reading of the Bible should ever be used to demean, violate, or terrorize any brother or sister." She stresses: "To love our enemies, regardless of how we may feel about them, is the most radical act in the realm of God."
The Very Reverend, Katherine Hancock Ragsdale, President and Dean of Episcopal Divinity School said, "We are pleased to welcome back Carter Heyward and Joanna Dewey who taught at Episcopal Divinity School for 30 years and 17 years, respectively. Heyward, one of the Philadelphia 11, the first group globally of ordained women priests in 1974, is a popular writer and speaker in feminist theology as is Dewey in her own field, feminist Biblical scholarship. "These addresses are key events in this year's calendar. We are confident they will provoke and inspire."
Dewey, a specialist in the Gospel of Mark, orality studies, and feminist approaches to the New Testament, is also well-known for her critique of sacrificial interpretations of Jesus' death. Her publications include Mark as Story: An Introduction to the Narrative of a Gospel (with David Rhoads and Donald Michie) and Orality, Textuality and the Gospel of Mark (Wipf and Stock, due to be published in 2012). She has held a number of positions in the Society of Biblical Literature, and is a member of the Westar Institute. She is currently retired, living in New Jersey, and doing adjunct teaching at area seminaries (Union, General Theological Seminary and Drew University). Dewey and Heyward will have copies of their books on sale at EDS on April 14.
In her new book, Heyward calls on readers to "beware of the constant temptation we face as clergy and lay leaders in the world and the Church – to mistake appeasement with love and efforts to minimize tension with peace… The founders of Alcoholics Anonymous figured it out: it is only as a team, only together – understanding our survival, our sanity, and our spiritualities as utterly bound up in one another's that we have even a chance of surviving the violence and insanity, which threatens to suck us collectively, as well as individually, into the abyss."
Heyward, who is also a prominent lesbian activist in discussing what it means to be queer, observes: "Queerness is public solidarity in the struggle for sexual and gender justice, of irrepressibly making connections to other struggles for justice, compassion, and reconciliation."
Episcopal Divinity School faculty member, Professor Patrick Cheng takes the discussion further in his newly released book, An Introduction to Queer Theology: Radical Love. Cheng discusses the concept of radical love in Christianity and writes: "Saints break through radical love by breaking through boundaries… erotic, literary, and social boundaries. Indeed, these saints are witnesses to a love so radical that it is able to touch us through the normally impenetrable boundaries of time and space."
He writes: "In some ways, the families of choice that queer people have created (such as same-sex and gender-variant marriages, domestic partnerships, polyamorous relationships, and broader friendship networks) can be viewed as communities of radical love. Like the early church, these communities are new 'families' and 'bodies' that cut across traditional boundaries that separate us… We can understand the church as a place that dissolves the traditional boundaries that divide us from one another. As Galatians reminds us, there is neither male nor female in Christ Jesus. This gathering up of God's people, regardless of sexuality, gender identity, and other differences, is the work of the Holy Spirit and is a way of returning us to the radical love that was sent by the first person of the Trinity, and the radical love that was recovered by the second person of the Trinity."
Ragsdale said: "Episcopal Divinity School has consistently produced academics and students who have made a profound impact on the communities where they live and work. Cheng's book is an important new text in a rapidly growing field of theological debate and inquiry. It is coupled with the authority of Dewey's and Heyward's teachings, We are looking forward to a vibrant spring in Cambridge."
The 2011 Dewey and Heyward Lectures will take place on Thursday, April 14, at Episcopal Divinity School, 99 Brattle Street, Cambridge, email events(at)eds(dot)edu for more information. Former faculty members Joanna Dewey and Carter Heyward will return to EDS to give the lectures named in their honor. A light supper will be available in between lectures at the cost of $10 per person. Please register in advance. An opportunity to purchase books and have them signed will take place from 4-4:30pm and 6-6:30pm in the St. John's Memorial Chapel at 99 Brattle Street, Cambridge, on the day of the event.
SCHEDULE:
Joanna Dewey Lecture in Feminist Biblical Studies
4:30 pm, St. John's Memorial Chapel
The Joanna Dewey Lecture in Feminist Biblical Studies was created as a tribute to Dr. Joanna Dewey, the Harvey Guthrie, Jr. Professor Emerita of Biblical Studies and Former Academic Dean at Episcopal Divinity School, to assure the continuation of Dr. Dewey's life work in theologies of liberation. Dr. Dewey is known for her many contributions to the women's rights movement, particularly her work in developing women's liberation theology. She has authored a number of books and a new book will be published next year.
Carter Heyward Scholars Lecture
7:00 pm, St. John's Memorial Chapel
The Carter Heyward Scholars Lecture was created to honor Rev. Dr. Carter Heyward, the Howard Chandler Robbins Professor Emerita of Theology and one of the first women ordained in the Episcopal Church. Dr. Heyward has dedicated her life's work to making theology inspire and transform lives, and also to inspire Christians into action.
The Episcopal Divinity School in Cambridge, MA, is one of the world's most progressive divinity schools. The Episcopal Divinity School was formed in 1974 with the merger of Philadelphia Divinity School (founded in 1857) and Episcopal Theological School (founded 1867). It was among the first to accommodate and train black priests in the Episcopal Church and the first to train women for ministry. The Episcopal Divinity School has as its key commitments: "To live out the Gospel values of justice, compassion, and reconciliation; to liberate institutions and people from the grip of all forms of oppression; and to lead the Church and society with courage and compassion in an ever-changing world."
For more information contact:
Charlene Smith, Director Communications and Marketing
Episcopal Divinity School
99 Brattle Street, Cambridge, MA 01238
617.682.1502
chsmith(at)eds(dot)edu
http://www.eds.edu
###