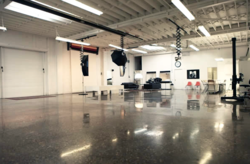 "Adaptive Concrete Polishing Inc", is a local leader in the industry and can be found at any point in time polishing large industrial slabs of concrete
Toronto, Ontario, CA (Vocus/PRWEB) March 28, 2011
While the economy has been in turmoil, many industries have relied on cost cutting measures to increase profits while maintaining productivity and improving their manufacturing or warehouse facilities.
A floor is not an obvious choice when cutting costs and improving productivity but looking down at a floor and its function has its benefits.
A floor is not only the foundation for all the equipment, forklift traffic, and the base for the structure itself, it is also a key element to be considered for overall safety, light reflectivity, as well as a major part of the overall building maintenance costs.
The latest in floor technology is not a fancy new coating or covering, it actually has to do with using the concrete slab itself. The common term is Polished Concrete, but some refer to it as diamond polished, Retro Plate™, or Super Floor™. The process of taking an existing concrete slab and grinding the surface with progressively finer diamond impregnated pads or disks, will result in a shiny, smooth yet slip resistant surface that is ultra low maintenance, has high light reflectivity and can be densified to become stronger than the original concrete was prior to the polishing process.
A Toronto based concrete polishing company "Adaptive Concrete Polishing Inc", is a local leader in the industry and can be found at any point in time polishing large industrial slabs of concrete turning them into the beautiful finished product called polished concrete.
So in summary, polished concrete can save money in energy and lighting costs due to its excellent light reflectivity properties, its sustainable and green process, lower maintenance and repair costs normally associated with coatings, and even the initial costs during construction by using the concrete slab foundation as a finished floor.
Consider polished concrete as an industrial floor finish of choice. For more information on the benefits of polished concrete in Toronto contact Adaptive Concrete Polishing Inc.
###