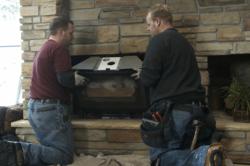 Given the volatility of oil prices, investing in home heating and efficiency is wise.
Minneapolis, MN (Vocus/PRWEB) March 27, 2011
According to an IRS report, a total of $328.4 billion was refunded to 109.4 million U.S. taxpayers in 2010, for an average tax refund of $3003. For this year, the volume of tax returns is not yet available, but is likely to be similar. Still rebounding from the worst recession since the Great Depression, many Americans are spending refunds in a more conservative manner than they did several years ago. Investing in an efficient hearth product such as a fireplace, insert or free-standing stove is a decision that can provide years of heat cost savings.
Angie's List recently conducted a survey and 90 percent of respondents said they plan to invest in home improvements in 2011. With accelerating fuel prices, it's a good time to evaluate the options for heating and efficiency in our homes. Heating with pellets in a free-standing pellet stove or fireplace insert can save thousands of dollars per year over heating oil. Heating with cordwood in an EPA certified wood-burning fireplace or stove can provide even more savings, especially if the wood is harvested by the homeowner. Drafty masonry wood-burning fireplaces can be made up to 85 percent more efficient by installing a gas fireplace insert.
Hearth products also increase the value of homes. According to the National Center for Real Estate Research, adding a fireplace can increase its value by 6 to 12 percent. And adding one costs less than some homeowners may think. For example, a direct vent gas fireplace can be added to an existing home for as little as $3,500 including installation. And for only about $2,900, homeowners can add a wood or gas free-standing stove, or transform a drafty masonry wood-burning fireplace into a heating powerhouse with a gas or wood-burning insert. Free-standing pellet stoves or fireplace inserts can cost as little as $3,200 complete.
"Given the volatility of oil prices, investing in home heating and efficiency is wise," said Diane Utzman-O"Neill, vice president of marketing for Hearth & Home Technologies. "Many people are choosing to spend their tax refunds on products that save energy and money, instead of on things that rapidly depreciate in value, like televisions and furniture."
To share the good news about fireplaces, stoves and inserts, four major U.S. hearth brands are offering the Save Now–Save Later Contest. Now through April 29, 2011, U.S. residents can enter to win one of four $500 Visa gift cards and receive a $100 off coupon by simply entering on each brand's website – QuadraFire.com, HeatnGlo.com, HarmanStoves.com and Heatilator.com. Winners can combine the $500 prize with the $100 coupon and save $600 toward the purchase of a new hearth product. By contributing tax refunds to the investment, homeowners can save a bundle now and even more later with efficient hearth products that can help reduce heating costs. Absolutely no purchase is necessary and participants can increase their chances of winning the $500 by sharing the contest on Facebook and Twitter.
The Save Now–Save Later Contest is open to all residents of the continental U.S. The four winners will be randomly selected during the week of May 15, 2011, with prizes awarded by May 31, 2011.
About Hearth & Home Technologies Inc.
Hearth & Home Technologies is the world's leading provider of whole hearth systems including fireplaces, stoves and inserts, as well as furnaces that utilize biomass fuels. Its family of brands includes Harman™, Heatilator®, Heat & Glo®, Quadra-Fire® and Fireside Hearth & Home® retail stores and builder design centers. The company offers a wide variety of energy efficient and environmentally sustainable hearth products, which are manufactured, packaged and delivered with respect for the environment. Hearth & Home Technologies is a subsidiary of HNI Corporation, the second largest office furniture manufacturer in the United States. More information can be found at http://www.hearthnhome.com.
###