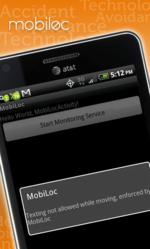 Since MobiLoc's implementation, we've had fewer accidents. The system more than pays for itself, said Greg Kennemer of Jani-King.
Dallas, TX (Vocus/PRWEB) March 31, 2011
MobiLoc is cloud-based software, pushed over the air to smart-phones to temporarily suppress access to apps like texting, emailing, web-browsing, phone calls, Facebook, Twitter and more, while a vehicle is in motion. When the vehicle stops, the smart-phone returns to normal operation and all suppressed apps are released. Any data, email and texts, for example, continue to be received by the phone during this suppression period and can immediately be accessed once the phone is stopped.
The technology is available to a business wanting to ensure employees are driving safely by restricting phone use while they are behind the wheel. Clients using MobiLoc have reported a drop in their accident rates since installing MobiLoc, thereby reducing costs associated with accidents, such as insurance deductibles, vehicle repair, time off work and, in some cases, litigation from victims.
"This technology works hand-in-hand with a business wanting to enforce their safe driving policies," said Larry Eppard, MobileLutions co-founder. "We've designed MobiLoc so it can be customized to enforce each company's unique policies. If they want to block texting Monday through Friday, 8 a.m. to 5 p.m. — they can do that. If businesses don't want Facebook accessible during work hours, they can do that. Flexibility to operate within the needs of a business differentiates MobiLoc from competitors."
With the release of MobiLoc 2.0 functionality was added for:

Passenger Release - allows smart-phone to be fully functional if user is a passenger.
Block Any App - blocks any app that can be loaded on the phone, e.g. Facebook, Twitter, YouTube, etc.
Inbound and Outbound Phone Number Exceptions - allows specific phone numbers to bypass software
Text Blasting - allows text messages to be broadcast to groups or the whole company
Enhanced Reporting
Always Block - never allow an app to be used on a phone
Ignore Speed - block app during the defined days/hours no matter what speed
Battery Saving Technology - improvements in the algorithm to limit the drain the app puts on the phone's battery.
JaniKing International, the world's largest commercial cleaning franchise company, implemented MobiLocTM and their Director of Risk Management, Greg Kennemer reported, "Since MobiLoc's implementation, we've had fewer accidents. The system more than pays for itself."
The MobiLocTM software is available on GPS-enabled Blackberry and Android devices, independent of cell phone carrier. An iPhone version is in final test and will be released in April 2011.
"According to the U.S. Department of Transportation, distracted driving caused almost 5,500 deaths and a half million injuries in 2009," said Doug Ortega, MobileLutions co-founder. He added, "approximately, one in five of those deaths involved a cell phone; and texting increased collisions by 23 times than physically dialing a phone while driving."
MobileLutions is a leader in providing software solutions to prevent distracted driving and reduce corporate exposure to this risk. MobileLutions is dedicated to the creation of a safer environment for employers, employees and the public. For more information, please visit http://www.MobileLutions.com.
###