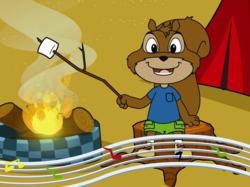 Once you connect a child to nature and nurture the experience with patience, conversation, and your own thoughtful enthusiasm, the path is laid for a lifelong interest to enjoy and care for the environment.
Corte Madera, CA (Vocus/PRWEB) March 25, 2011
IAG Media, creators of conscientious family entertainment, announces the release of its award-winning educational and nature-inspired app series Let's Go Chipper. The fully-loaded app is a portal to the parks, gearing kids up for camping, hiking, and meaningful connections with nature before mom or dad even packs a bag.
The Company decided to release a robust platform today in response to parents wanting more for their kids without the in-app purchase model.
"Chipper playfully teaches kids good character and a love for the environment through our animated and live-action movies, books, music videos, and activities and the goal is to excite a new generation of ambassadors of the great outdoors and not stop them with a password and fee," says creator and company founder Stephanie Rach. "We want to engage kids through our content and keep the experience positive; therefore we eliminated the in-app model and offer an all-inclusive 'download as you go' experience.
The initial Let's Go Chipper app comes fully loaded including the award-winning premiere episode Into the Great Outdoors, an eco-adventure which introduces children to a curious squirrel named "Chipper," embarking on his first camping trip to the parks. Music, mishap, and humor entertain kids during this animated and live action story filled with animals and lessons about respecting and experiencing nature. The live action footage is from award-winning naturalist and honorary park ranger, Doug McConnell. The lessons are relevant to the everyday life of a child under eight and provide a positive reinforcement tool for parents.
Kids are free to tap-and-download books like "Out to Sea with Sally," an underwater adventure about the life of a salmon; "Break it Down with Bruce," a silly and slimy game of hide and seek leads to the discovery of nature's greatest composter – the Banana slug; and "Let's Stroll Crissy Field," taking Chipper on a bus ride through San Francisco to spend a day by the Bay and in one of the most popular urban national parks. Additionally, there are music videos like White Sand Blue Water, the S'More song, and coloring activities to continue the fun.
"By launching to the mobile marketplace, we are able to gain an immediate global audience with the Let's Go Chipper series and that fits our goal of making meaningful content that excites curiosity and respect accessible to everyone," says Ms. Rach. "Chipper is the ambassador of the great outdoors and our goal is to guide a new generation of children back outside to play by empowering them with confidence, knowledge, and enthusiasm."
The Company supports its mobile platform by offering a free story & activity book with the download. The book includes journal pages for kids to take with them on their own adventures. Additionally, Chipper is a mascot visiting schools, community events and retail venues offering activities like recycled craft making, singing, and story times. IAG Media is taking Chipper on the road beginning in April and will visit many REI stores and schools throughout the country in an effort to excite children about playing in the great outdoors this summer.
"Once you connect a child and nurture the experience with patience, conversation, and your own thoughtful enthusiasm the path is laid for a lifelong interest and intuitiveness to respect animals, the environment, and people – research details this but the personal 'aha' moment is worth so much more than the information we sometimes stay home and just blog about."
Visit Let's Go Chipper in iTunes or to learn more go to http://www.letsgochipper.com. Stay connected and share outdoor experiences with Chipper on Facebook.
# # #