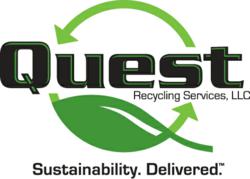 The leader in food recycling.
Frisco, TX (Vocus/PRWEB) March 25, 2011
GreenBiz, the renown online publication specializing in Green business news , sustainability and business success, featured the nationwide organics recycling program that Quest developed to help Walmart and Sam's Clubs divert food waste from landfill. Click here to read the full article.
The food recycling programs, which started in 2009, allow Quest's customers to not only recycle food waste into animal feed or nutrient rich compost, but also to recycle used cooking oil into biofuel or animal feed and unsold meat and seafood into animal feed additives.
Walmart approached Quest to help them find a solution to recycle food waste produced in its 4,400 Walmart and Sam's Club stores and supercenters in the form of hot foods from its delis and outdated or returned food. "We did some research and within two weeks, we provided them with our plans and the way that we would attack it," Brian Dick, Quest Recycling CEO said. "They gave us California to start out with. We were successfully rolled out in California in less than 30 days. We proved to them that we did have the right idea and right concept."
Quest Recycling created the programs from scratch by thinking out of the box and leveraging the ingenuity of its current vendors. Quest reached out to existing service providers to suggest they invest in the specialized trucks and bins needed to handle Walmart's organic food waste, which is typically wet, heavy and acidic. "We encouraged these people to make these investments and they started a new business line," Dick said.
The new infrastructure, which includes customized collection bins, specialized trucks and a combination of recycling facilities ranging from composting to anaerobic digestions, allowed the creation of at least 500 new green jobs. " We found well over 500 new green jobs created by this effort." Said Brian Dick, "That's everything from additional staff, facility expansions, trucks expansions from drivers, operators, managers and customer service people ... We think it's just the tip of the iceberg."
About Quest Recycling LLC
Quest Recycling Services, http://www.QuestRecycling.com is one of the nation's fastest growing full service recycling companies. Quest Recycling, which is based out of Frisco, Texas manages the recycling efforts of over 7,500 locations nationwide. Quest's customers span from automotive to industrial, fleet, municipalities, hospitality and foodservice industries. Quest also partners with http://www.earth911.com, providing consumers with information about recycling and local community resources. Quest's provides nation-wide, one-stop recycling solutions for all waste streams to both companies and communities.
###