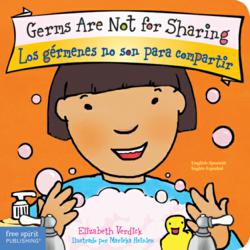 Minneapolis, MN (Vocus/PRWEB) March 28, 2011
Free Spirit Publishing's classic books on health and hygiene for kids are now available in bilingual English-Spanish editions. Written by Elizabeth Verdick and illustrated by Marieka Heinlen, Germs Are Not for Sharing/Los gérmenes no son para compartir will help kids understand what germs are, what they can do, and why it's so important to keep them from spreading.
Part of the popular, award-winning Best Behavior™ series, Germs Are Not for Sharing/Los gérmenes no son para compartir depicts real-life encounters with germs that kids can relate to. Kids will learn how to properly cover a cough, not to eat food that has dropped on the floor, when to wash their hands, and more. Marieka Heinlen's bright, vibrant illustrations complement Elizabeth Verdick's simple words that kids will repeat and remember after reading, such as, "Achoo! Achoo! What do you need to do?" or "¡Achís! ¡Achís! ¿Qué tienes que hacer?"
The books are translated from the English-only Germs Are Not for Sharing, which "hits the bull's-eye with an important message to all children," says Dr. Philip M. Tierno, the director of Clinical Microbiology and Immunology at New York University Medical Center and author of The Secret Life of Germs.
Germs Are Not for Sharing/Los gérmenes no son para compartir is available in a durable board book for ages baby to preschool and in a longer, more in-depth softcover for ages 4 to 7. These bilingual editions include all of the children's text along with a section of tips for parents, teachers, and caregivers in both languages—useful tools for early childhood educators, healthcare providers, school nurses, and flu awareness initiatives. Dr. Joseph J. Sockalosky, the director of Medical Education at Children's Hospitals and Clinics of Minnesota says Germs Are Not for Sharing "addresses an increasingly important subject in children's health. This book should be in every pediatrician's and family physician's waiting room and at every childcare center, preschool, and early elementary school."
Germs Are Not for Sharing/Los gérmenes no son para compartir is the third Best Behavior book to be released in a bilingual edition, following Hands Are Not for Hitting/Las manos no son para pegar and Words Are Not for Hurting/Las palabras no son para lastimar. The English-only version of Germs Are Not for Sharing has received awards from Dr. Toy, Midwest Book Awards, Midwest Independent Publisher's Association, and Mom's Choice Award.
Headquartered in Minneapolis, Minnesota, Free Spirit is the leading publisher of learning tools that support young people's social-emotional health and their educational needs. Free Spirit's mission is to help children and teens think for themselves, succeed in life, and make a difference in the world.
For review copies, please contact Elena Meredith: meredith(at)freespirit(dot)com
###