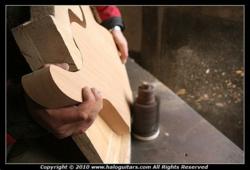 In addition to offering one of the largest selections of baritone guitars, Halo Custom Guitars also offers a comprehensive build-to-order service through the Halo Custom Shop
Cupertino, CA (Vocus/PRWEB) March 26, 2011
Halo Custom Guitars serves musicians worldwide and has expanded its offering of baritone guitars. The addition of twenty new models provides discerning guitar players more features and higher performance compared to existing choices on the market today.
The expanded offering of baritone guitars was driven by strong consumer demand and shifting trends in modern heavy metal music. "For 2010, Halo's top selling models were from Baritone and Extended Range categories," stated Jeff Lee, General Manager with Halo Custom Guitars. "Baritone and extended range guitars are like regular guitars, except they play lower notes and sometimes higher notes, or both. Heavy metal music is primarily electric guitar-driven and that makes it necessary for heavy metal guitarists to use high performance electric guitars like Halo's. Modern heavy metal music tends to be played in lower tunings, which is something standard guitars were not designed to do."
Halo Custom Guitars' new baritone guitar models are designed to play in lower tunings and are available in electric and acoustic versions. Halo baritone guitars are equipped with advanced components, which offer similar or better performance than many higher priced instruments.
"It's exciting to be part of Halo Custom Guitars as they are growing and their products are differentiated from what you would find in most guitar stores," stated Alvin Gatewood, Halo's Quality Control Manager and long time guitar player. "There are not enough professional options available when it comes to baritone guitars. Halo's new baritone guitars utilize Neck-Through-Body Construction, which is an advanced guitar building method that produces better sound and stability. With Neck-Through-Body Construction, the guitar's neck runs through the entire length of the instrument. This construction method produces an instrument with superior resonance and sustain by making the neck a component of the instruments body, rather than an attached extension of the body, as is found in other construction methods. Halo baritone guitars incorporate many professional features and with factory direct prices – it's a win-win situation."
"In addition to offering one of the largest selections of baritone guitars, Halo Custom Guitars also offers a comprehensive build-to-order service through the Halo Custom Shop," stated Bruce Lee, Halo's Sales Director. "The Halo Custom Shop specializes in building guitars according to customer-supplied specifications. The result is our customers receive professional instruments tailored to their exact needs."
Musicians interested in learning more about Halo Custom Guitars' new baritone models can visit http://www.haloguitars.com or speak with a Halo Representative at 1-408-873-8606.
About Halo Custom Guitars
Halo Custom Guitars, a front runner in build-to-order guitar manufacturing, provides fully customizable guitars and basses to consumers worldwide. Halo Custom Guitars offers more custom options, faster delivery, and more affordable pricing than most guitar companies in the U.S. Founded in 2005, Halo Custom Guitars has quickly become a musician's trusted source for professional instruments at affordable factory-direct pricing.
# # #