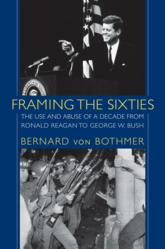 [Von Bothmer's] research has been prodigious.
San Francisco, CA (Vocus/PRWEB) March 25, 2011
In Framing the Sixties, Bernard von Bothmer relies on a trove of primary sources in building his position that the sixties will continue to define us at least until the last of the baby-boom generation exits the stages of power. He also offers future historians a wealth of new primary sources in the more than120 interviews he conducted with cabinet members, speechwriters, advisers, strategists, historians, journalists, and activists from across the political spectrum. A number of historians and critics are appreciating the effort.
"[Von Bothmer's] research has been prodigious," writes Alexander Bloom in the recent issue of the Journal of American History. "He combed every presidential library and countless periodicals, and he interviewed just about everyone."
In getting so many of the key players of the era to open up and go on record, von Bothmer, a recipient of the University of San Francisco's 2010 Distinguished Lecture Award for Excellence in Teaching, has impressed many with his thesis. "One of the most insightful lessons of this book,"writes Ohio University History Professor Kevin Mattson in The Sixties: A Journal of History, Politics, and Culture, is that the 1960s "is like a dinner party that can't be vacated, that will never be transcended, and that sticks to us like glue. . . . von Bothmer traces out the difference between the 'good' and 'bad sixties'. . . . [He] brings things together into a coherent narrative and does a fine job of maintaining his focus."
Von Bothmer's main premise is that U.S. Presidential politics since the time of Ronald Reagan have been a see-saw struggle in which each party has sought to lay claim to the ideals of the decade. That each party views those ideals so dichotomously is what makes von Bothmer's study so fascinating. "Von Bothmer details numerous overgeneralizations, misstatements of fact, and revised personal biographies as politicians adjust their ideas and past actions to modern political trends," continues Bloom, professor of history at Wheaton College. "In fact, one can almost read a history of the last thirty years embedded in von Bothmer's analysis."
Choice, published by the Association of College and Research Libraries, calls Framing the Sixties a "smartly written work on the political uses and misuses of history. . . . An excellent analysis. . . . Essential."
While the reviews may not be all in on the decade itself, the reviews of von Bothmer's cogent analysis of the sixties through the prism of recent Presidential politics suggest, perhaps, that the 14-year dinner party that was the sixties can indeed be transcended.
Framing the Sixties: The Use and Abuse of a Decade from Ronald Reagan to George W. Bush
By Bernard von Bothmer
University of Massachusetts Press, Amherst and Boston
$28.95 paper, ISBN 978-1-55849-732-0
$80.00 library cloth edition, ISBN 978-1-55849-731-3
About the Author
Bernard von Bothmer teaches American history at the University of San Francisco, where he received USF's 2010 Distinguished Lecturer Award for Excellence in Teaching, and at Dominican University of California. He was born and raised in New York City and received a BA with honors from Brown University, an MA from Stanford University, and a PhD in American history from Indiana University.
For more information, visit http://www.framingthesixties.com
Media contact: Victor Gulotta, Gulotta Communications, Inc.
617-630-9286, http://www.booktours.com, victor(at)booktours(dot)com
###