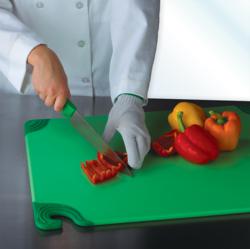 FEM's 'gripping' new range of cutting boards promises to be easier to use, safer and more hygienic.
(Vocus/PRWEB) 27 March 2011
Smart, safe, hygienic: FEM's new cutting boards get a grip in the kitchen
FEM's 'gripping' new range of cutting boards promises to be easier to use, safer and more hygienic. Called the Saf T-Grip, the attractive boards have integrated anti-slip grips that hold them steady on the worktop, providing a safe cutting surface. They are available in a range of six colours, for food safety task-coding, and are made of a special co-polymer that won't warp, even when commercially washed at high temperatures.
The Saf T-Grip range provides the solution to a common problem in the kitchen: how to hold cutting boards steady on a worktop surface. Many chefs still use the messy, unhygienic method of putting a wet towel under the board, just to stop it moving. FEM's new boards don't move, whatever the surface.
The new boards feature two other useful features. Their patented food safety hook means they can be hung to dry thoroughly. It also allows them to be carried and stored easily and hygienically, with no need to touch the surface. Meanwhile the integrated ruler allows chefs to quickly portion foods while they cut.
All six colours are available in a choice of three sizes: 12 x 18 inches, 15 x 20 inches and 18 x 24 inches (305 x 457mm, 381 x 508mm and 457 x 610mm). The Saf T-Grip boards are designed to be washed in commercial washing systems.
Saf T-Grip boards are manufactured by San Jamar and are distributed in the UK by Foodservice Equipment Marketing (FEM). They have a one year warranty and are available through catering equipment suppliers nationwide.
For more information and details of local stockists call FEM on +44 (0) 1355 244111, email sales(at)fem(dot)co(dot)uk or visit http://www.fem.co.uk
Saf T-Grip Cutting Boards – Mar-11
Press Enquiries:
Toni Turner or Alison Haynes at The Publicity Works: 01263 761000; Email: fem(at)publicityworks(dot)biz
For more news about FEM visit the press office at http://www.publicityworks.biz
Mark Hogan, Marketing Manager, Foodservice Equipment Marketing Ltd, +44 (0) 1355 244111
DIGITAL PHOTOS AND INFORMATION ARE AVAILABLE ON REQUEST FROM THE PUBLICITY WORKS
More information on FEM from http://www.fem.co.uk
Separations charge enquiries: offers can only be accepted by fax on 01263 761009 or by email to seps(at)publicityworks(dot)biz.
All offers are considered. We will call you if the answer is 'yes'. Otherwise the answer is, regrettably, 'No'.
Foodservice Equipment Marketing Ltd
Foodservice Equipment Marketing Ltd (FEM) is based in East Kilbride near Glasgow, Scotland. Since 1993 the company has represented leading foodservice equipment manufacturers in the UK and Irish markets. Over the years FEM has established partnership agreements with many of the industry's top brands in both smallwares and equipment, including Vollrath, Manitowoc Ice, Cambro, Sirman, Prince Castle, San Jamar and Hamilton Beach. In 2003 FEM moved into manufacturing when it acquired Wardpark Gardner.
###