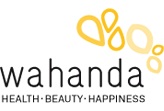 Launching on Monday 28th March and priced at just £20, this MobDeal is sure to please every mum this Mother's Day
(Vocus/PRWEB) 28 March 2011
Mother's Day is just around the corner and Wahanda is here to make mums across the country happier than ever. As part of our exciting new Mother's Day range, Wahanda is thrilled to announce a new partnership with The Sanctuary Spa which will begin with an unbeatable MobDeal on its skincare products.
Launching on Monday 28th March and priced at just £20, this MobDeal is sure to please every mum this Mother's Day with the chance to claim over 50% off a kit containing some of the leading brand's most popular skincare treats. The Sanctuary Skincare Spa Heroes Kit contains four full sized The Sanctuary Spa products, the Radiance Boosting Facial Oil (30ml), Perfectly Polished Hot Cloth Cleanser (175ml), Warming Microbrasion Polish (100ml), and Warming Charcoal Detox Mask (100ml).
This Mother's Day-inspired MobDeal is the first offer that Wahanda and The Sanctuary Spa will be working on together. Lynette Rose, Sanctuary Business Development Manager, comments: "We are delighted to work with Wahanda on this great Mother's Day range and look forward to bringing its customers a taste of the Sanctuary experience with future deals. We already have a great relationship with Wahanda for our Spa packages and our customers often go to Wahanda as a first port of call when looking for special offers, which has worked well for us in the past."
In addition to this new partnership with Sanctuary, Wahanda will also be running a SideDeal to make sure that no one misses out. Running alongside the main MobDeal, the Pro-Collagen kit will contain the Pro-Collagen Youth Serum (30ml), Pro-Collagen Night Concentrate (50ml) and Skincare Collagen Boosting Mask (100ml), all for just £20.
As well as daily MobDeals, Wahanda has collected the very best in mother and daughter pamper experiences, afternoon tea and spa offers, and spa breaks which can now be booked directly with the recently launched booking system.
Notes to Editors
1. The Sanctuary have previously only partnered with Boots.
2. Limited number available. Subject to availability.
What is Wahanda?
If the Internet had a speed dial button for health, beauty and wellness, Wahanda would be number one. Wahanda is doing for wellbeing what Amazon did for online retailing – providing an intuitive and easy-to-use website to learn about treatments (everything from acupuncture, facials and massages to Pilates, nutrition and personal training), share ratings and reviews, and book the hottest deals, gifts and offers from the most comprehensive listing of spas, salons, studios and fitness centres across the globe, all with the simple click of a mouse. Wahanda was named in ELLE's top ten beauty websites 2009 and FabSugar named Wahanda best UK beauty website 2009. Wahanda is a Native American word that means "The Great Spirit & Creator".
###