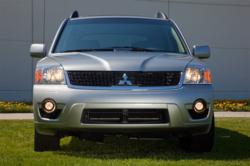 Joliet, Illinois (Vocus/PRWEB) March 27, 2011
With the release of newer models such as the Mitsubishi Outlander Sport, as well as the 2011 Mitsubishi Lancer Evolution North American Mitsubishi vendors have noticed a spike in customer traffic.
For February 2011 Mitsubishi Motors North American sector reported that nearly 7,000 cars were sold that month, which stands as their biggest sales month since back in 2008.
Year over year sales have increased by seventy-one percent and there are no signs of it slowing down.
Bill Jacobs Mitsubishi is proud to say that we are a part of the Mitsubishi family and can contribute to their rise in financials. Not many manufacturers can offer as much value as Mitsubishi can and it's proven in the statistics of their current/ongoing surge. We have a wide variety of used and brand new Outlander Sports and Lancer Evolutions as well as a whole other fleet of vehicles. We are located in Joliet, Illinois and are the areas number one Mitsubishi dealer.
# # #