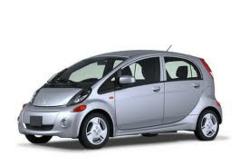 San Antonio, TX (Vocus/PRWEB) March 27, 2011
While the launch of the electric vehicle i-MiEV from Mitsubishi in Costa Rica may not be readily relevant to the people of San Antonio, Texas, the fine folks at Mission Mitsubishi - the leading Mitsubishi dealership in San Antonio - know that it is a good thing.
Costa Rica has plans to gradually become a "carbon offset country" - one that emits zero CO2 - by the year 2021. This is a lofty goal, for sure, but with car companies like Mitsubishi helping out, there are many who believe it is possible.
In addition, there are many people who believe lofty goals like being a carbon offset country are one of the things that is going to enable the people of this planet to turn things around when it comes to abusing the environment.
The Mitsubishi i-MiEV electric vehicle is not going to solve all of the world's problems overnight, but by making it available to the people of Costa Rica, there is a better chance that they are going to reach their goal of becoming a carbon offset country that does not add C02 gases to the atmosphere.
If more people in more countries thought like this, the environment might be better saved for future generations. As mentioned, the Mitsubishi i-MiEV electric vehicle may not be the final solution or answer, but sales of this e-car in Costa Rica are going to go a long way in helping make the planet "greener."
Available since 2009, the i-MiEV electric vehicle from Mitsubishi has been a success around the globe. Available now in Australia, Europe, and Asia, it will be coming to the United States later this year. Many are anxious to see how well it is going to do in the US car market.
The US already has a lot of great options when it comes to electric cars. That said, the i-MiEV electric vehicle has been a success around the world because it is a well put together vehicle that is ahead of many others in the market.
Those who want to find out more about the Mitsubishi i-MiEV electric vehicle or any other Mitsubishi models need to head down to Mission Mitsubishi, the premiere San Antonio Mitsubishi dealership.
###