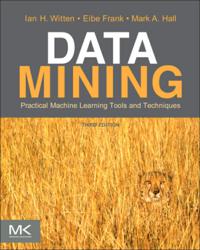 The authors include both tried-and-true techniques of today as well as methods at the leading edge of contemporary research.
Burlington, MA (Vocus/PRWEB) March 28, 2011
From mining to architecture to governance, Morgan Kaufmann's experts on data management provide data professionals with the best education resources available. Four new and updated titles are required reading to stay abreast of the rapidly evolving field of data management.
Data Mining: Practical Machine Learning Tools and Techniques, 3rd Edition by Ian Witten, Eibe Frank, Mark Hall offers a thorough grounding in machine learning concepts as well as practical advice on applying machine learning tools and techniques in real-world data mining situations. Inside, you'll learn all you need to know about preparing inputs, interpreting outputs, evaluating results, and the algorithmic methods at the heart of successful data mining including, i.e., the rule [onions, potatoes] -> [beef] found in the sales data of a supermarket would indicate that if a customer buys onions and potatoes together, he or she is also likely to buy beef. The authors include both tried-and-true techniques of today as well as methods at the leading edge of contemporary research. Complementing the book is a fully functional platform-independent open source Weka software for machine learning, available for free download.
Developing High Quality Data Models by Matthew West walks the reader through identifying a number of data modeling principles and analysis techniques that enable the development of data models that both meet business requirements and have a consistent basis. The reader is presented with a variety of generic data model patterns that both exemplify the principles and techniques discussed and build upon one another to give a powerful and integrated generic data model. This model has wide applicability across many disciplines in government and industry, including but not limited to energy exploration, healthcare, telecommunications, transportation, military defense, transportation, and more.
Database Modeling and Design: Logical Design, 5th Edition by Toby J. Teorey, Sam S. Lightstone, Tom Nadeau and H.V. Jagadish clearly explains how to model and design database applications using lots of illustrative examples. The authors take new technology and business needs into consideration as they provide practical advice that can be applied to any SQL, UML or XML-based system. This book will be immediately useful to anyone tasked with the creation of data models for the integration of large-scale enterprise data.
Entity Resolution and Information Quality by John Talburt covers the process of locating and linking information about the same entity - eliminating duplications - and making crucial business decisions based on the results. This book is an authoritative, vendor-independent technical reference for researchers, graduate students and practitioners, including architects, technical analysts, and solution developers. In short, Entity Resolution and Information Quality gives you the applied level know-how you need to aggregate data from disparate sources and form accurate customer and product profiles that support effective marketing and sales. It is an invaluable guide for succeeding in today's info-centric environment.
Data Architecture: From Zen to Reality by Charles Tupper explains the principles underlying data architecture, how data evolves with organizations, and the challenges organizations face in structuring and managing their data. It also discusses proven methods and technologies to solve the complex issues dealing with data. The book uses a holistic approach to the field of data architecture by covering the various applied areas of data, including data modeling and data model management, data quality, data governance, enterprise information management, database design, data warehousing, and warehouse design. This book is a core resource for anyone emplacing, customizing or aligning data management systems, taking the Zen-like idea of data architecture to an attainable reality.
# # #