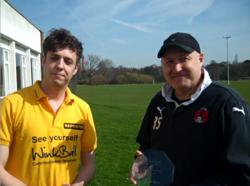 (Vocus/PRWEB) March 25, 2011
In what has been a fantastic football season so far for League One side Leyton Orient FC, Leyton Orient Manager Russell Slade has now been awarded 'Fan's Manager of the Month' for the month of February by WinkBall.com, the UK's no. 1 video site. WinkBall were more than happy to bestow this award upon Russell for the O's terrific run of form in February where they achieved three wins and four draws. One result that of course stands out in the mind for fans was their fantastic display against Premiership giants Arsenal in their fourth round FA Cup clash at the Matchroom Stadium. Holding the Gunners to a one all draw in such dramatic fashion encapsulated what is so magical about the FA Cup and this result meant everything to the fans of Leyton Orient FC.
With this fantastic run of form and that tremendous FA Cup performance, it was unanimous from fans across the country that Russell should be chosen as WinkBall.com's 'Manager of the Month' for February.
Growing social video site WinkBall.com cover football games up and down the country across all tiers of football with their extensive network of video reporters. Interviewing fans before and after games, it is their unique fan ethos, in that it is the fans that matter, which has made them such a hit in the football world.
Of all the fans that WinkBall have interviewed, it is Leyton Orient FC fans that have struck a particular chord. Their passion and enthusiasm for their team has always been evident be it win, lose or daw and this has demonstrated how much of a fan based community club Leyton Orient FC are. It was of course then fitting that fans chose http://www.leytonorient.com/page/NewsDetail/0,,10439~2321851,00.html [Leyton Orient Manager Russell Slade __title__ ] as WinkBall's 'Manager of the Month'.
Russell himself said he was "really chuffed" to be presented the award and with this award coming from the fans, he spoke of their importance this year in the club's progress;
"…Absolutely massive, and hopefully we've given them a journey this season, obviously not just the FA Cup but a journey still goes on in the League where we're just outside the play-offs…"
WinkBall.com wish Russell Slade and Leyton Orient FC the best of luck for the rest of their league campaign and hope all O's fans continue to communicate happiness throughout the remainder of the football season.
To see WinkBall present Russell Slade his award, see the link below;
http://www.winkball.com/walls/1B3HdLuY6rW9/leyton-orient-v-dagenham-and-redbridge
Notes to Editors:
About WinkBall
WinkBall is the British video network that specialises in capturing the public's passion at events - as they happen - and providing vox-pop and video services to clients worldwide.
Now the UK's no. 1 video website, WinkBall's interactive Video Walls, Blogs, Forums and Messaging technologies create the ultimate online presence by engaging with the people who truly matter. This provides a dynamic, mass media, social and participatory experience to connect with the public and targeted communities. Services include vox-pop creation, consumer interviewing, market research, event coverage, video reporter hire, and business and product videos.
Featured on the BBC, CNN, CNBC, Sky News and many more, WinkBall were also nominated finalists in the PR Week Awards 2010 and the CIPR Excellence Awards, 2010.
The technology was designed and built in London in 2005 as a quintessentially British collaboration between academic inventiveness (Goldsmiths, University of London) and commercial endeavour. Launched 18 months ago, WinkBall.com has had nearly 35 million hits and has a growth rate of 25% per month.
Contact WinkBall:
Info(@)winkball(dot)com, 020 8962 3030
Head of Press:
Jennifer(@)winkball(dot)com, 020 8962 3033
Contact WinkBall's PR, Max Clifford Associates:
Victoria Cameron
Victoria(@)maxclifford(dot)com, 020 7408 2350
###