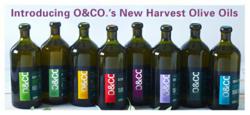 New York, NY (Vocus/PRWEB) March 28, 2011
Used for thousands of years as the cornerstone of Mediterranean cuisine, olive oil possesses a unique flavor and aroma that makes it an undeniably versatile and alluring commodity in the kitchen.
Used for sautéing, stir-frying, browning or as an extra kick of flavor in marinades, condiments or drizzles, olive oil is as distinctive as its users. Just as specific wines are best paired with certain foods and flavors, olive oils emit irresistible flavors when paired properly.
O&CO.'s strong and robust Basil Olive Oil, made with fresh basil gathered at the height of its season and prepared according to a 16th century Italian process is the essence of freshness. Best paired with tomatoes, fresh cheese, pasta, pizza and white meats, O&CO.'s Basil Olive Oil enriches the flavor of everything it touches, making it one of O&CO.'s best selling specialty oils.
Floral finishing oils like O&CO.'s Moulin Castelas Olive Oil reveal a smooth, fragrant oil bursting with ripe apple, crisp pear and a touch of almond, bringing the miraculous scents and warmth of Provence to your home. Used as a vinaigrette for steamed vegetables or as an accent in fresh baked goods, floral finishing oils provide a sweet and silky layer of flavor.
For the olive oil connoisseur, no other olive oil matches the subtlety and elegance of O&CO.'s Rameaux d'Or line comprised of limited edition vintages of exquisite character. The Il Fornacino Olive Oil is consistently rated among the ten best olive oils in the world due to its purity and aromatic finish. The exclusive golden nectars enhance every kitchen creation, and the beautiful exterior of the luminous golden bottle makes this unique oil a truly special gift.
Every day use olive oils like O&CO.'s Récoltes Réservées extra virgin olive oils are ideal for all-purpose cooking as their simpler flavor allows for a wide variety of food preparation including frying, sautéing and grilling.
With such an extensive array of olive oils for every occasion, O&CO.'s exclusive 2011 Harvest Olive Oils will transform any meal into exotic Mediterranean cuisine. Visit O&CO today to browse their wide range of essential gourmet recipes and products.
About O&CO:
With a respect for tradition, O&CO. cherishes originality where tastes and smells converge to delight the senses. Emerging from the high Alpes-de-Haute, in the village of Mane, O&CO. became the brainchild of two men united around a common passion, the olive tree. Ten years since its creation, O&CO. has forged a new image of the olive tree, rooted in tradition but firmly anchored in the modern world. Their completely innovative concept has spread to seasonings, sauces, pastas, sweets, spreads and vinegar to bring the pleasures of the Mediterranean to you. View O&CO.'s full line of exclusive products at http://www.OliviersandCO.com.
###