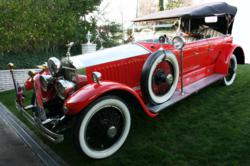 Commissioned by Britain's King George V as a present for Maharajah Bhupinder Singh.
Larkspur, CA (Vocus/PRWEB) March 28, 2011
Classic car collector Rubin Jurman of Los Gatos will display his rare Rolls-Royce Torpedo Tourer, built in 1925 as a gift to a maharajah, on Sunday, May 15, 10 a.m.-4 p.m., at the 3rd Annual Marin Sonoma Concours d'Elegance at the Marin Civic Center, San Rafael.
The brilliant red and chrome car was commissioned by Britain's King George V as a present for Maharajah Bhupinder Singh, who ruled India from 1900 to 1938. The tall tires are designed to cross rough terrain, and the low gearing ratio allows the huge vehicle to creep through mud and brush. The maharajah used the car primarily to hunt Bengal tigers.
The rare vehicle headlines a display of stately Rolls-Royce motor cars, the 2011 marque of distinction at the annual, premier automotive exhibition and show. Vehicles from Jurman's classic car collection have won top honors at the Pebble Beach Concours d'Elegance and at national Rolls-Royce showings. The San Jose native purchased the car 10 years ago from professional golfer Gene Littler.
A member of the Rolls-Royce Club of America since 1971, Jurman's collection currently includes the 1927 "Great Gatsby" Brewster model and a stately 1956 Silver Wraith limousine. He began his long affection for classic cars with a 1936 Packard Straight Eight.
In addition to the Rolls-Royce marque, the public event will showcase a lineup of classic and vintage cars celebrating the 100th year of Chevrolet and a century of racing at the celebrated Indianapolis Motor Speedway. Chevys from 1918-1975 and Indy 500 race and pace cars will be featured in addition to rare and rakish Stutz motor cars, a array of vintage campers and trailers, and a showing of classic wooden boats in the Marin County Fairground's lagoon.
The Marin Sonoma Concours d'Elegance is a fundraiser benefiting the non-profit Hospice By The Bay, which serves Northern San Mateo, San Francisco, Marin and Sonoma counties. Since 1975, Hospice By The Bay has provided the highest quality of end-of-life care to patients and support to their families, regardless of their ability to pay. Hospice By The Bay's grief counseling program also serves anyone in the community coping with the loss of a loved one.
Hospice By The Bay programs are funded through health care reimbursement and charitable donations from community members and corporate sponsors. For more information about Hospice By The Bay's care or to make a donation to support our work, call (415) 927-2273, or visit http://www.hbtb.org.
###