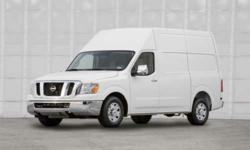 Manhattan, Kansas (Vocus/PRWEB) March 27, 2011
If you ask the professionals at Briggs Nissan - the premiere Manhattan, Kansas, area Nissan dealership - you are going find that they are excited about the 2012 Nissan NV commercial van.
In a segment of the vehicle market long dominated by other companies, Nissan is trying to take over with breathtaking and groundbreaking design changes for the 2012 Nissan NV. And when you look at this new commercial van, you can see that they are serious.
"The new kid on the block, as it turns out, is also a long-time player in the global commercial vehicle market. As the first non-domestic nameplate to design, manufacture and sell CVs in the United States, we bring a more than seven-decade tradition of durability, quality and reliability to our products," said Joe Castelli, vice president, Commercial Vehicles and Fleet, Nissan North America, Inc. (NNA).
"At the same time, we've taken a fresh look at every aspect of the CV business – including styling, powertrain, interiors, cost of operation and ownership, dealership sales and service operations and, most importantly, real world customer needs."
These special touches are what is going to make many companies and individuals switch to the 2012 Nissan NV.
"The NV is one of the most researched projects ever in the history of Nissan. We touched the market at every point possible, with the findings reflected in every aspect of the final NV design," added Castelli.
Nissan listened to what consumers wanted and have delivered with the 2012 Nissan NV.
"A commercial van must serve many more functions today, including acting as a mobile office for time spent on the road or at a job site," said Castelli.
"We've made storage and productivity items integral to the design, rather than tacked-on afterthoughts. The result is a clean, practical and comfortable workspace for a wide variety of professions and businesses."
The Nissan NV is roomy and comfortable, two things people have asked for in commercial vans for a while. The CV has never been known for being comfortable and roomy until now. The 2012 Nissan NV is a game changer in many ways.
To find out more about the Nissan NV or any of the other great Nissan models coming out, stop in at Briggs Nissan of Manhattan, Kansas. Their sales professionals can help answer any questions. You can also see the new Nissan models for yourself.
# # #