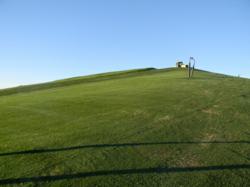 "The grass looks great. . . . We probably would have re-graded and re-vegetated the cap several times by now if it was a soil cover."
Atlanta, GA (Vocus/PRWEB) March 30, 2011
Municipal solid waste directors are feeling the pressure from regulatory requirements, tighter budgets and the desire for increased sustainability. One Atlanta-based company, Closure Turf™, is offering relief through new technology that drastically reduces the time, cost and environmental impact associated with landfill closure.
The traditional process of closing a landfill costs between $85,000 to $150,000, depending on the required clay, soil and vegetative cover to be placed over the geomembrane liner. An additional $30,000 to $50,000 per acre is needed to complete the 30 years of monitoring and maintenance required by the EPA. Closure Turf™, a synthetic turf system with a unique impermeable barrier, can significantly reduce the construction costs and practically eliminate the post-closure maintenance costs. The product is composed of UV-resistant, polyethylene grass laid over a structured drainage geomembrane provided by Agru America along with a specialized sand embedment material providing a system weight ranging from 5 to 10 pounds per square foot based on site-specific design requirements. The product can be laid directly on the required intermediate soil cover therefore eliminating the need for the top two feet of soil and grass. On average, municipalities have realized a per acre savings of $10,200 on construction cost, an $8,500 savings on the reduction of vertical gas wells (when also using Closure TurfTM patented surface collection system), and a post-closure maintenance savings of $21,000. Additionally, Closure Turf™ can also be installed quickly, requiring just a few weeks where traditional closure would require several months. This provides communities with rapid control of landfill gas and odors. Closing in a more frequent, incremental manner provides for significant improvement in the containment of greenhouse gasses.
Already employed in MSW landfills in Louisiana, Texas, Missouri and Pennsylvania, as well as projects under development in many other states, Closure Turf™ continues to appeal to site operators across the country. Mike Friesen, a district landfill engineering manager for IESI Corp., explains, "When we realized that we could gain 2ft of airspace, coupled with reduced post-closure costs and a dual-use gas collection system, it became a very easy decision for us. The gain in airspace alone has the potential to offset half or more of the cost per acre of using the turf." He also appreciates the ease of installation and maintenance. "The grass looks great. We have had over 150 inches of rain to date and very severe winds with no maintenance required afterwards. We probably would have re-graded and re-vegetated the cap several times by now if it was a soil cover."
The company's most recent project is the closure of a 65-acre county landfill in California. Closure Turf™ was selected because of its ability to withstand high winds, and provide very stable slopes under seismic activity. Furthermore, the local community appreciates that it will take several thousand truckloads of dirt off the road and will recharge the water systems with water free from silt and potential nitrates commonly found in the local borrow soils. Product co-developer Mike Ayers notes, "With communities placing increasing value on sustainability, the use of Closure Turf™ benefits the environment immediately by reducing construction carbon emissions by 70% and later on by providing a platform for future renewable-energy initiatives." He explains that solar developers appreciate the ease in which solar panels can be integrated into the system while providing a clean and easily accessible solar field. "Developers are currently working on three Closure TurfTM landfill sites and we expect this to grow as we see more and more communities looking to extract value from land that would otherwise lie dormant. Even if communities are not ready to invest in current solar technology, just having the foundation in place for possible future implementation demonstrates smart economic and environmental stewardship."
###