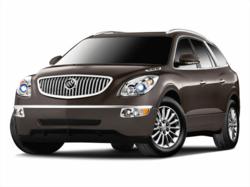 Manhattan, Kansas (Vocus/PRWEB) March 27, 2011
The sales professionals at Briggs Pontiac Buick GMC - the leading Manhattan, Kansas, area Buick dealership - are thrilled that the 2011 Buick Enclave has won Vincentric's seventh annual Best Value in America award.
The honor is quite prestigious, even if you haven't heard of it before. The award confirms what Consumer Reports had to say about the Buick Enclave last year - that it was a wonderful vehicle for a lot of different types of drivers.
"Winning the Vincentric 'Best Value in America' award reaffirms what Consumer Digest said of Enclave last year – that it's a 'Best Buy,'" said Tony DiSalle, U.S. vice president, Buick Marketing.
"Enclave is a smarter choice for crossover buyers, not only for its lower cost of ownership, but also for its winning blend of sleek, contemporary design, luxurious quiet-tuned interior and superior ride and handling."
The Buick Enclave has done well online with "the people" as well. For example, they recently won About.com's 2011 Readers' Choice Award in the "Best New Crossover Vehicle" category. While all of these awards are good, it is really all about the Buick Enclave itself.
"We picked Enclave over other full-size crossovers, because its low depreciation rate and low service costs resulted in a cost of ownership that is 3 percent lower than expected for similarly priced vehicles in its segment," said David Wurster, president of Vincentric.
Many people are starting to think about the Buick Enclave and it is showing with increasing sales numbers all over the country. If you ask the team at Briggs Pontiac Buick GMC, you are going to see that they are well aware of why the Enclave is so popular.
Around the country, Enclave sales rose around 40% year over year, which is quite an increase for any type of vehicle, let alone a crossover like the Buick Enclave. There are reasons it is becoming so popular. All you need to do is take a look at it yourself.
Those who want to take a Buick Enclave for a test drive or get their questions about it answered completely just need to do is stop in at Briggs Pontiac Buick GMC - the premiere Manhattan, Kansas, Buick dealership. Their sales team is professional, friendly, and can help with the Buick Enclave or any of the other 2011 Buick models that are currently available.
# # #