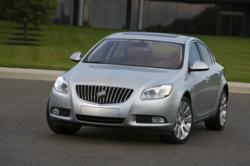 Manhattan, Kansas (Vocus/PRWEB) March 27, 2011
The new manual, 6-speed transmission on the Regal Turbo delivers 32 MPG on the highway, meaning consumers get power that is more fuel efficient. If you ask the sales team at Briggs Pontiac Buick GMC - the leading Buick dealer in Manhattan, Kansas and the surrounding area - they think that the new Regal Turbo is a winner in many different respects.
The new manual transmission option is exciting for many people, however, who actually like driving a stick better.
"When you look at the Regal Turbo it just screams manual," said Brad French, a fitness and fashion devotee for whom personal appearance factors into vehicle purchase decisions.
"A few years ago I would've never considered Buick, but the Regal Turbo is a very sharp-looking car that is a thrill to drive. I can't wait to show it off."
From being a thrill to drive to the better gas mileage that it gives you, there are many reasons to consider the new manual transmission for the 2011 Regal Turbo.
"Not only is the Regal Turbo fun to drive and fuel efficient, it is the first direct-injected turbocharged production car capable of running on any blend of gasoline or E85 ethanol," said Robert Casparian, Regal product manager.
"By enabling drivers to tune their vehicle to their driving preference and even their mood, we're better able to exceed their expectations and provide a more satisfying driving experience," Casparian said.
"All of our friends love our sexy new car," said Cathy French. "Of course, I'm telling them that it's really my car and that I'm only letting Brad drive it."
Brad and Cathy French of Chicago are certainly not the only couple who like to drive a stick. Here in Manhattan, Kansas there are many drivers who prefer manual transmissions as well.
If you stop in at Briggs Pontiac Buick GMC - the premiere Buick dealer in Manhattan, Kansas and the surrounding area - you will be able to take a Buick Regal Turbo for a test drive and experience the power and practicality of a manual transmission for yourself. Once you go with a stick, you won't want to go back to an automatic.
# # #