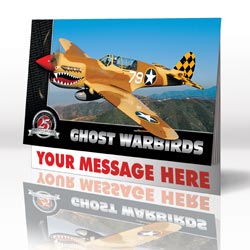 If our photos can reach and inspire just one young kid to dream of flying and become a pilot, then that would be a great thing - said Hap LeCompte of Sparta Calendars
Los Alamitos, CA (Vocus/PRWEB) March 28, 2011
Sparta Calendars, the award-winning world leader in deluxe aviation calendars, is celebrating its 25th anniversary this year and has been a sponsor of this event for three years. "The night of celebration is not just a 'star-studded' event of Hollywood and aviation celebrities; it is a room full of passionate aviation enthusiasts," said Hap LeCompte of Sparta Calendars. "The men and women honored at this event, and those of us who were in attendance, are dedicated to the dream of flight. We want to help the Living Legends of Aviation in their efforts to promote aviation and keep the dream of flight alive as it plays an extremely important role in today's society. When I hear celebrities such as Kurt Russell, John Travolta, Sean Tucker, Bob Hoover, Harrison Ford and Tom Cruise, or a legendary astronaut like Buzz Aldrin, try to describe the feeling that flying brings them and what aviation has brought to their lives, I know exactly the feeling they are describing, having been a commercial airline pilot myself. It's a pilot thing, not a celebrity thing; we often refer to it as "a love of aviation," and we want to bring that feeling and passion to as many people as we can, especially kids. Words will never do justice to the feeling of flying and the freedom that comes from aviation."
The current list of Living Legends comprises 70 remarkable men and women. This year's guests included many Hollywood A-listers, along with astronauts, aviation entrepreneurs, record breakers, innovators, pilots who have become celebrities and celebrities who have become pilots. "The men and women on this list are at the pinnacle of the aviation ladder, but everyone involved with the Living Legends is here to help the next generation take the first step on the aviation ladder." said LeCompte. This year's invited celebrity/legend guests included John Travolta, Capt. James Lovell, Laurent Beaudoin, Bob Hoover, "Sully" Sullenberger, Kurt Russell, Clay Lacy, Morgan Freeman, Dr. Buzz Aldrin, Tom Cruise, Joe Clark, Maj. Gen. William Anders, Cliff Robertson, Lynn Tilton, Tony Bill, Dr. Forrest Bird, Carroll Shelby, James Raisbeck, Linden Blue, Barron Hilton, Sir Richard Branson, Harrison Ford, Gene Cernan, Julie Clark, Dick Rutan, Pat Epps, Greg Herrick, Dieter F. Uchtdorf, Alan Klapmeier, Bruce McCaw, Lorenzo Lamas, Col. Max Moga, Zoe Dell Lantis Nutter, Tom Poberezny, Mike Melvill, Vern Raburn, Si Robin, Frank Robinson, Sean Tucker, Steven Udvar-Hazy, Emily Howell-Warner, Patty Wagstaff, Kermit Weeks, Treat Williams, Michael Dorn, Arnold Schwarzenegger and Tom Selleck.
"Kids need to be exposed to aviation so they can realize that flying is not just for dreams but it is real and it is right in front of them," said LeCompte. "We make the world's greatest aviation calendars because we use the world's best aviation photographers who photograph air-to-air some of the most beautiful aircraft set against amazing scenery. These photographers, aircraft designers and pilots all started out with just a love of airplanes. Kids are fascinated by aviation and they love aviation photos; just ask Tom Cruise, who at 3 or 4 years old carried two aircraft photos with him all the time — one of a P-51 Mustang and the other a Spitfire. Tom would later star in the movie "Top Gun" and now pilots his own real P-51 Mustang for fun. That is a perfect example of why Sparta Calendars supports the Kiddy Hawk Air Academy and the Living Legends of Aviation. If our photos can reach and inspire just one young kid to dream of flying and become a pilot, then that would be a great thing."
The Legends event is produced by the Kiddie Hawk Air Academy, a nonprofit, 501(c)(3)-qualified organization. Kiddie Hawk introduces kids, ages 5 thru 11, to take flight with the Kiddie Hawk Trainer. The Kiddie Hawk Trainer allows kids to take their first flight lesson with the sophistication of motion and control of real flight, piloting their airplane, albeit just a few feet off the ground. Kiddie Hawk follows the students as they progress in aviation and makes scholarships available as Kiddie Hawk pilots enter actual flight training. The Kiddie Hawk program also introduces youngsters to other aviation-related careers.
Visit http://www.SpartaCalendars.com for more information on the award-winning aviation calendars.
# # #