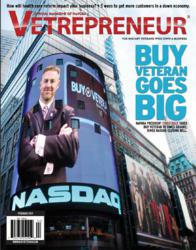 "President Obama has also called out for the nation to focus on our Vetrepreneurs as part of the rebuilding of our economy. With more than 3 million Vetrepreneurs in the U.S. we know we will find an extraordinary one to highlight for the nation."
Pittsburgh, PA (Vocus/PRWEB) March 28, 2011
The National Veteran-Owned Business Association (NaVOBA), in partnership with JP Morgan Chase & Co., announced the launch of the nationwide search for the 2011 Vetrepreneur of the Year – honoring the single individual who exemplifies the military spirit and its superior training in their civilian business life. The winner will grace the June cover of Vetrepreneur, NaVOBA's national magazine.
"We're thrilled to have JP Morgan Chase as NaVOBA's newest corporate member as well as the sponsor of the 2011 Vetrepreneur of the Year," said NaVOBA President Chris Hale. "President Obama has also called out for the nation to focus on our Vetrepreneurs as part of the rebuilding of our economy. With more than 3 million Vetrepreneurs in the U.S. we know we will find an extraordinary one to highlight for the nation."
The Vetrepreneur of the Year award is a prestigious honor bestowed annually to only the finest role models the veteran-owned business movement has to offer. The Vetrepreneur of the Year demonstrates the finest qualities and attributes crucial in leading a flourishing business, marked and sustained business growth and success, and a strong aspiration to cultivate veteran entrepreneurship.
"What a way to reawaken pride in your past and your service," said 2010 Vetrepreneur of the Year Ray Margiano, founder and CEO of Foot Solutions Inc. "Two months later I actually sold a Foot Solutions franchise to a person who read my story in Vetrepreneur – a $200,000 investment! If you are already in business for yourself join the Buy Veteran movement (http://www.buyveteran.com) and take the survey for Vetrepreneur of the Year 2011, and I will see you in the winner's circle."
Vetrepreneur of the Year finalists are based on their business categories, and the magazine honors a winner in three classifications including Vetrepreneur to Government (V2G), Vetrepreneur to Business (V2B) and Vetrepreneur to Consumer (V2C).
While a winner will ascend for each category, there can only be one Vetrepreneur of the Year. To learn more or to take the survey visit http://www.navoba.com/voy. The survey closes April 13, 2011.
NaVOBA (http://www.navoba.com) leads the national veteran business movement, creating opportunities for America's 3 million veteran owned businesses by actively encouraging and connecting the general public, large corporations and federal, state and local governments to Buy Veteran.
For more information visit us on the web and follow us on FaceBook at http://www.facebook.com/navoba and on Twitter @navoba and at http://www.BuyVeteran.com.
To arrange interviews or for additional needs contact: BP Media Relations
Barbara Pflughaupt – 212-707-8181 or Judee Cohen – 917-721-0663
# # #