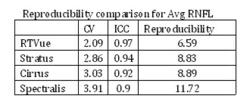 Fremont, California (Vocus/PRWEB) March 26, 2011
The authors of this study (Leonard K. Seibold, Naresh Mandava, and Malik Y. Kahook), compared the RNFL reproducibility of the RTVue with the Stratus, Cirrus, and Spectralis OCTs. They measured RNFL thickness in 40 normals on separate visits several weeks apart and they showed the RTVue reproducibility was better than all other OCT system in the study.
The results found that only the RTVue showed significant improvement in reproducibility compared to the Stratus. The Cirrus and Spectralis were not significantly better than the Stratus.
The investigators looked at three variability measures, the coefficient of variation (CV), the intraclass correlation coefficient (ICC), and reproducibility. The coefficient of variation is a measure of repeatability and the lower the number the more repeatable the measure. The ICC is a measure of total variance compared to within subject variance and the higher the number the better. Reproducibility provides the 95% level of variability across visits, and so represents a significant change between visits. This means, if a patient is scanned on two different visits 100 times, the measurement result will be within the reproducibility number 95 out of 100 times. The lower the number, the smaller the change that can be picked up (more sensitive for detecting progression). For the full article, go to http://www.elsevier.com/wps/find/homepage.cws_home (Publication: Am J Ophthalmol 2010;E-Pub ahead of print. © 2010 by Elsevier Inc. All rights reserved),
# # #