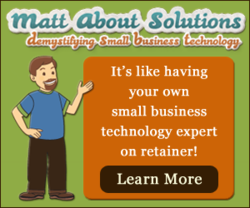 "If members don't find the answer for which they're looking," explains Mansfield, "They can ask me using the handy "Ask Matt" form inside and I will research and create a post or video to answer their question!"
Deerfield, IL (PRWEB) March 28, 2011
Matt About Solutions, a site dedicated to helping small business folks both choose, and learn to use, the best online solutions to run and market their business has launched to the public today.
Owner, operator and "Small Business Technology Expert", Matt Mansfield has been helping businesses, both large and small, use technology to accomplish their business goals since 1993.
"For years I've been helping both individuals and businesses find, evaluate and choose software solutions," says Mansfield. "Once they have a solution, I've taught them how to best use it to achieve business success."
"Now," Mansfield continues, "I've expanded my mission by offering my business and technology expertise to small businesses everywhere, at a cost much lower than a traditional consultant and in an easy-to-access and understand package."
-Site Provides "Clear and Actionable Answers" to Small Business Owners-
Inside Matt About Solutions, members will find courses, videos, webinars, articles, reviews, newsletters, resources and more. Each resource is aimed at helping them improve operational efficiency by learning how to choose and use the best technology solutions for their unique businesses and goals.
Perhaps the biggest draw however, is the "Ask Matt" feature.
"If members don't find the answer for which they're looking," explains Mansfield, "They can ask me using the handy "Ask Matt" form inside and I will research and create a post or video to answer their question!"
All answers are shared with other members as well which means that everyone benefits when a question is answered.
-Not Just Matt-
One of the first things a member will notice when they come inside is that not all the content is created by Mansfield alone.
"I've met some pretty amazing small business experts over the years," says Mansfield, "And now, I want you to meet them, too."
Matt About Solutions "Content Affiliates" work with Mansfield to create create courses, webinars and all sorts of other content in their areas of expertise.
Mansfield plans to continue to grow the group of Content Affiliates, adding even more value to the Matt About Solutions membership.
-Learn More-
Small business owners can learn more about Matt About Solutions by viewing the tour at: http://www.mattaboutsolutions.com/matt-about-solutions-tour/
For additional information or a guided tour, members of the media can contact Matt Mansfield using the contact information to the left.
# # #