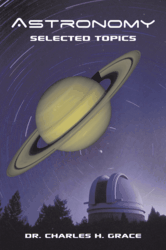 Selected Topics endeavors to answer questions not only about the Universe around us, but about the scientists who study it as well.
Lakewood, Ohio (Vocus/PRWEB) March 28, 2011
What is 'redshift'? How old is the Sun? What is 'string theory'? Millions of people ask these and other questions about our Universe every day. Now, the new book Astronomy: Selected Topics (published by Trafford Publishing) by Dr. Charles H. Grace provides readers with a primer to better understanding these and many other inquiries regarding the universe.
Almost every child has asked "why do we have summer and winter seasons?" Every night, people gaze up into the sky and ponder the scintillating, shimmering points of light. Curiosity about our surroundings and what lies beyond is hardwired into the human mind. Astronomy: Selected Topics endeavors to answer questions not only about the Universe around us, but about the scientists who study it as well.
While there are many books about physics, astronomy and the various theories regarding the mechanics of the Universe, most are written in a way that is hard for the average person to understand. Astronomy: Selected Topics presents information in an easy to understand format and in language that does not require an advanced degree in physics. For example, did you know that the sun is physically below the horizon at sunset while it is still visible in the sky?
'At sunset, when the bottom edge of the Sun appears to just touch the horizon, the Sun is actually entirely below the horizon, with its top edge geometrically at the horizon! Refraction in the atmosphere causes the "rays" from the Sun to bend downward by about 1/2 degree, which happens to be the size of the Sun as seen from Earth. As a result, the entire Sun is still in sight even after it is entirely below the horizon.'
Astronomy: Selected Topics uses anecdotes, stories and simple explanations to better describe how the Universe around us works. Its straightforward text and easy manner make it ideal for anyone wishing to unravel the secrets of the Universe.
About the Author
Charles H. Grace earned a doctoral degree in electrical engineering from Carnegie Institute of Technology and a law degree from Cleveland State University. During his career, he was an engineering manager, consulting engineer and supervisory lawyer. Dr. Grace is a member of several astronomy organizations. He currently lives in Lakewood, Ohio.
Trafford Publishing, an Author Solutions, Inc. author services provider, was the first company in the world to offer an "on-demand publishing service," and has led the independent publishing revolution since its establishment in 1995. For more information, visit http://www.trafford.com.
EDITORS: For review copies or interview requests, contact:
Marketing Services
Tel: 1-888-232-4444
Fax: 812-961-3133
Email: promotions(at)trafford(dot)com
(When requesting a review copy, please provide a street address.)
# # #