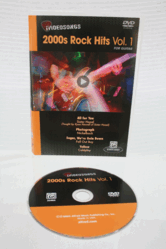 Songmaster's iVideosongs DVDs from Alfred Music Publishing are now available in Guitar Center stores and from select online retailers.
Jupiter, FL (Vocus/PRWEB) March 28, 2011
Songmaster Studios Education announced today Alfred Music Publishing's introduction of a five DVD set of iVideosongs guitar lessons at select Guitar Center stores and other retail and online stores. The iVideosongs series are productions of Songmaster Studios featuring well-known artists and top-tier studio musicians teaching how to play Billboard hits.
The iVideosongs series cover guitar fundamentals and then four distinctive styles for acoustic and electric guitarists.
> Lead Guitar Concepts: More than two hours of step-by-step instruction for beginner and intermediate players.
> Country Hits: More than three hours of lessons, including music by Vince Gill, Garth Brooks, Brad Paisley, and John Denver.
> 70s & 80s Rock Hits: Classics by Kansas, Fleetwood Mac and others, covered in easy-to-follow break-downs of value to guitarists of all levels.
> 90s Rock Hits: Diverse hits ranging from Clapton to Matchbox Twenty in nearly two hours of detailed lessons.
> 2000s Rock Hits: Includes a lesson from Sister Hazel's Ryan Newell, teaching "All for You."
Songmaster's iVideosongs series are cutting edge, high def alternatives to private lessons or inaccurate tablature found on the Internet. The lessons contain complete songs broken down into segments that cover the intro, verse, chorus, bridge, and outro for each song. Songs are transcribed accurately, just as they were originally written and recorded. More DVDs are expected for Southern Rock, Blues and Singer-Songwriter classics.
Visit Songmaster's web site for more details or become a friend on its iVideosongs channel on YouTube where you can find free tutorials.
# # #