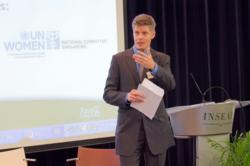 The seminar brought to light the key behavioural differences between men and women in terms of negotiation style and non-verbal communication.
Toronto (Vocus/PRWEB) March 29, 2011
INSEAD, the leading international business school, celebrated women in business with a dynamic seminar titled 'The Art of Negotiation: Battle of the Sexes' hosted by Peter Hiddema, Visiting Professor of Decision Sciences at INSEAD. Some 300 participants attended the lively event at INSEAD's Campus in Singapore celebrating the achievements of women around the world.
'There are key behavioral differences between men and women in terms of negotiation style and non-verbal communication,' said Professor Hiddema. 'For example, men tend to focus more on the content of a negotiation and are more comfortable being competitive, while women generally place significant emphasis on the relationship dynamics and tend to be more collaborative. Neither gender style can be truly regarded as "better"; both men and women possess different strengths and weaknesses in negotiation.' Professor Hiddema then emphasized that: 'we must remember gender styles are generalities and are only part of the picture—one also needs to factor in personality, culture, and context.'
A panel discussion followed, featuring Professor Hiddema and Merel Venneman, Principal, Singapore office, Boston Consulting Group; Sonia Cargan, Vice President, Human Resources, East Asia, American Express Co.; as well as Anamah Tan, Immediate Past President of the International Council of Women and member of Advisory Board, UN Women. The panel discussion focused on the art of negotiation as a critical skill for success in business and in life, with an exchange of views on what women and men bring to the table to produce success in negotiations.
About Peter Hiddema
Mr. Hiddema is Founder and CEO of Common Outlook Consulting Inc and has been building upon the foundation he had already established in the field of negotiation and conflict management through his inspiring association with the Harvard Negotiation Project (HNP). He has lectured and delivered workshops at several universities, including Queen's University (in Canada and the UK), HEC at L'Université de Montréal, INSEAD (France and Singapore) and Harvard University, as well as Global 1000 companies (such as Royal Bank of Canada, Toyota, and Deloitte) applying the Harvard methodology to teach executives and leaders the skills they need to successfully drive performance for their organizations.
Common Outlook Consulting Inc. is a unique Canadian-based consulting company that helps international clients discover out-of-the-box win/win outcomes for their daily business challenges in the areas of negotiation, conflict management, and leadership development. These clients experience a significant productivity increase upon completion of Common Outlook's corporate learning programs or after employing Common Outlook's high-stakes negotiation strategy advice or facilitated dialogue services.
Learn more by visiting: http://www.CommonOutlook.com
###