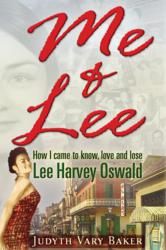 New Orleans is the area where terrible events were set in motion over 40 years ago
New Orleans, LA (Vocus/PRWEB) March 28, 2011
Edward Haslam, author of Dr. Mary's Monkey and co-author of Me & Lee, will return to the area where terrible events were set in motion over 40 years ago: New Orleans. Haslam will be in the city from March 27 to April 1st, where he will be doing book signings and giving lectures.
Dr. Mary's Monkey concerns the 1964 murder of a nationally known cancer researcher and sets the stage for a gripping exposé of medical professionals enmeshed in covert government operations over the course of three decades. Following the trail of police records, FBI files, cancer statistics, and medical journals, his research presents evidence of a web of medical secret-keeping that began with the handling of evidence in the JFK assassination and continued apace, sweeping doctors into cover-ups of cancer outbreaks, contaminated polio vaccine, the arrival of the AIDS virus, and biological weapon research using infected monkeys.
This story interlaces with the history of accused John F. Kennedy assassin Lee Harvey Oswald, his secret lover Judyth Vary Baker and the strange world of underground figures they associated with, including spies, Mafia kingpins, unethical medical researchers and others. Haslam proves that New Orleans was the breeding ground for the plot to kill the President in Me & Lee. Many of the key players are found in both books, with the steamy environs of the Big Easy as the focus.
Haslam is scheduled to appear at the following times:
March 27
2 to 4pm
BOOK SIGNING WITH DISCUSSION
METAIRIE Barnes and Nobles
3721 Veterans Blvd., Metairie
March 28
8:20am
WWL-TV (4) CBS MORNING SHOW
1024 N. Rampart St.
New Orleans
11am to 12:30pm
TALK
Causeway Branch Library,
3457 Hwy. 190
Mandeville
5 to 7pm
BOOK SIGNING Barnes & Noble Booksellers
3414 Highway 190, Suite 10 Mandeville
7:15pm
RECEPTION
Nuvolari's Restaurant
246 Girod St., Mandeville
March 29
10-10:30am
LIVE RADIO INTERVIEW WITH CALL-INS
On "Ringside Politics", weekdays 7-11 a.m. on WGSO 990 AM
2:00pm
LECTURE
Southeastern Louisiana University
Fayard Hall, Room 227, 1205 North Oak Street, Hammond
4:00pm
TAPED TV INTERVIEW:
"Northshore Talk" on WSTY-TV (23)
5 to 7:00pm
BOOK SIGNING
Books a Million, Hammond Square
325 Palace Dr., Hammond
March 30
5:50am
LIVE INTERVIEW
WAFB-TV Morning Show "9News this Morning"
9:00am
LIVE INTERVIEW
Louisiana Radio Network With Jim Engster
11am-1:00pm
BOOK SIGNING
Baton Rouge Barnes and Noble
7707 Bluebonnet Boulevard
5-7:00pm
BOOK SIGNING
Barnes & Noble Booksellers
5705 Johnston St., Lafayette
March 31
5:30am
INTERVIEW
KLFY-TV (10) Morning show "PASSE PARTOUT"
3:30pm
INTERVIEW
Ringside, WLAE-TV, Channel 32, New Orleans
5:30 to 7:00pm
BOOK SIGNING
Garden District Book Shop
2727 Prytania Street, New Orleans
April 1
7:30am
CALL-IN INTERVIEW
Christopher Tidmore Radio Show
WSLA 1560 AM Slidell/New Orleans,
KKAY 1590 AM White Castle/Baton Rouge
Dr. Mary's Monkey and Me & Lee are published by TrineDay Books, http://www.trineday.com
###