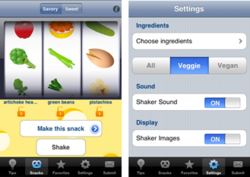 We wanted to offer an app that combined simple recipes with a fun, interactive display bringing the best of the veg experience into the palm of your hand.
- Heather Wolf, JuggleFit
New York, NY (PRWEB) March 29, 2011
Finding healthy, veggie friendly food in your own fridge is a no-brainer. There are literally thousands of products and services available to make your veg-life easier: cookbooks, Web sites and magazines. But what about when you're away from home, on vacation or even at the grocery store? How can you know what's the best food to buy – which ones include unhealthy additives and pesticides? If you're a techie and a vegetarian, the Shake a Snack app for iPhone and iPod touch is the perfect portable chef. Developed by Heather Wolf, creator of the JuggleFit fitness DVDs, Shake a Snack is a virtual food slot machine that lands on healthy three-ingredient combinations and encourages the increasingly recommended practice of eating satisfying mini-meals throughout the day.
"It has always been my hope that the simplicity of the recipes in Shake a Snack encourages people to eat healthy wherever they are," says Heather. "Since the iPhone boom, plenty of foodie apps have hit the market, but I wanted to offer one that combined simple recipes with a fun, interactive display bringing the best of the veg experience into the palm of your hand. The next time you're stressing about what to make for dinner or are feeling unsure about ingredients, don't worry, there's an app for that."
Shake a Snack: Vegetarian & Vegan 2.0
Users of the app will interact with three reels filled with small food icons. A slight shake of the device spins the reels to land on one of over 300 three-ingredient snack recipes. The new 'veg' feature is a vegetarian and vegan filter, where the user can choose to only display vegetarian or vegan ingredients and recipes. "The focus is on quick and easy," says Heather, "so most recipes require no cooking or use of pre-cooked ingredients." Recipe and calorie information can be viewed for a snack and saved as a favorite. Ingredients can also be removed as desired.
Shake a Snack fans can also submit their own vegetarian and vegan-inspired recipes through the app's 'Submit-A-Snack' feature. Heather adds, "When people shake the reels and see the colorful ingredients, a natural reaction is to come up with their own snack ideas. JuggleFit is excited to hear about users' unique creations and keep adding to the app."
Shake a Snack is available for $.99 from the App Store on iPhone and iPod touch or on iTunes at: http://itunes.apple.com/us/app/shakeasnack/id397162092?mt=8
To view a demo of Shake a Snack and read reviews of the app, visit http://shakeasnack.com.
Meet Heather Wolf
Heather Wolf, a certified group fitness instructor and ACE certified personal trainer founded JuggleFit in 2006. As the lead trainer and CEO of JuggleFit, she has taught thousands of people to juggle through her classes, events and appearances in her Juggle Your Way to Fitness DVDs. Heather makes it simple to learn juggling techniques and shows her students how to use their new skills to achieve increased levels of brain-body fitness.
Utilizing her tech-savvy skills, Heather has also developed the company's JuggleFit Tracker and Shake a Snack Apps for the iPhone and iPod touch. Heather is currently based in Pensacola Beach, FL but travels across the country for workshops.
What is JuggleFit®?
Perfect for fitness enthusiasts who want to conquer the latest trend, and for novices who are motivated by new and "entertaining" workouts, Heather Wolf proudly introduces JuggleFit, a fun and effective exercise routine that promotes coordination, concentration and fitness through instructional juggling DVDs. According to Heather, "Although it may not look like exercise, juggling is a highly aerobic (burns up to 280 calories an hour), no-impact workout that engages the body's core, utilizing muscles to tone the arms without adding stress on the joints."
Unmatched by conventional and monotonous types of fitness activities like running on the treadmill or lifting weights, juggling adds an entertainment element to exercising that helps keep people motivated during their workout. The cost-friendly fitness program can also be done by anyone, anywhere, anytime.
To speak to Heather Wolf or for more information about JuggleFit DVDs and the Shake a Snack app, please contact:
Heather Wolf
JuggleFit LLC
(850) 932-5570
info(at)jugglefit(dot)com
###