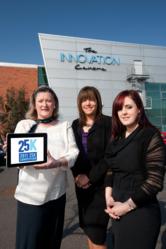 "The £25K's process has been an invaluable experience for Lenis Aer helping us to more fully understand the complexities inherent in successful transition from technological development to commercial realisation."
Belfast, Northern Ireland (PRWEB UK) 29 March 2011
The NISP Connect £25K Awards competition http://www.nispconnect.org/25k was launched today with a call to Northern Ireland researchers to submit their innovation ideas for possible commercialisation. Sponsored by the Bank of Ireland UK, QUB University of Ulster and AFBI (Agri Food and Biosciences Institute), the 25K Awards is NISP CONNECT's flagship event and is designed to identify, qualify, prepare and present the best knowledge-based ideas with the most commercial potential from the publicly funded research base in Northern Ireland. NISP CONNECT, part financed by the European Regional Development Fund under the European Sustainable Competitiveness Programme for Northern Ireland 2007-2013, is a non-profit organisation fostering entrepreneurship by accelerating the growth of promising technologies and early stage companies.
Throughout the Awards process applicants will experience the unique opportunity to connect and engage with established science and technology corporations, entrepreneurs, service providers and investors who are interested in promising technology. The programme connects the inventors with relevant stakeholders to increase the propensity of commercialisation and turning breakthrough ideas into reality.
Launching this year's awards, Director of NISP CONNECT, Steve Orr, said: "The £25K Awards aim to prepare and mentor entrants to become successful future business ventures that will contribute to the growth of the Northern Ireland economy. While Northern Ireland is highly acclaimed for its achievements in research and development it still has huge potential to unlock in terms of innovative individuals who can provide entrepreneurial solutions to global challenges.
"We recognise that not everyone with a great idea wants to start their own business or indeed has the expertise to do so and for this reason we treat the Awards as a learning process that offers valuable networking opportunities and advice to would be entrepreneurs on a number of fronts including business planning, commercialisation training and finance. The refinement process of the competition, its network of mentors, investors and potential partners, and the cash prizes awarded have helped many previous research teams to act on their dreams, engage in commercialisation and some have went on to build successful companies. I would encourage researchers to enter the £25K Awards and to make the most of this invaluable support offered by NISP CONNECT."
The overall winner of the 2010 £25K Awards was Lenis Aer from the University of Ulster with its innovative patent protected process for the manufacture of lip skins, the leading edge of an aero engine surround structure. In a market worth is £115million per annum Lenis Aer's unique forming method achieves considerable savings over current production processes.
Adel O'Neil from Lenis Aer, winning team of the 2010 Awards, said: "The £25K's process has been an invaluable experience for Lenis Aer helping us to more fully understand the complexities inherent in successful transition from technological development to commercial realisation. I would urge as many teams as possible from Northern Ireland's research community to get involved and receive support from seasoned entrepreneurs and innovation experts to help realise the potential of their research."
Clare Guinness, Regional Business Manager, Bank of Ireland UK added: "Year on year the £25K Awards identify and cultivate the incredible talent spun out from NI's research institutions and remind us why supporting local innovation is more important than ever in order to reap the economic benefits of a globally competitive region. We are delighted to sponsor the 2011 Awards and look forward to providing practical financial advice to the contestants during their quest for commercialisation."
Winners will be announced in September before an audience of more than 250 executives, entrepreneurs, investors, service providers, and academics. The overall prize fund is £25K with a total of £13K on offer to the overall winner. This year's attendees will also include influential venture capital investors from across the UK and Ireland who will be at the Science Park for a VC Forum earlier that day.
To enter participants must submit a two-page concept plan within one of four categories Hitech, Biotech, CleanTech or Digital Media and Software by the deadline of Friday April 22nd 2011.
For further information on how to register visit http://www.nispconnect.org/25k or Tel. Dr Elaine O'Neill (Programme Manager) on +44 (0)28 90737809.
# # #