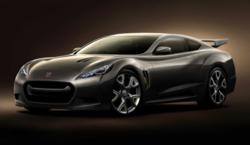 Lawrence, KS (Vocus/PRWEB) March 30, 2011
For those wanting a Nissan but wanting more power, the new 2012 Nissan GT-R is going to be a dream come true. According to the sales professionals at Briggs Nissan Lawrence - the premiere Lawrence, Kansas Nissan dealer - the new GT-R is the best ever.
While there have been concerns about delivery of the new GT-R with recent problems in Japan, Nissan is certain they are going to have enough of the new cars on stock in time. For now, there are quite a few 2011 Nissan GT-R models available throughout the country, including Lawrence, Kansas.
"With the enhancements for 2012, including its 530-horsepower twin turbo V6 and revised styling, the GT-R legend continues to grow," said Al Castignetti, vice president and general manager, Nissan Division, Nissan North America, Inc.
"And, the new Black Edition adds an extra level of exclusivity with its unique wheel and interior color treatments."
The cockpit style interior surrounds the driver. The dash perhaps feels like something from the future, but it is one of the small details that really shows Nissan went all out with the GT-R. With so many "boring" and "sensible" cars available these days, it is nice to see something as powerful and sleek as the 2012 Nissan GT-R.
From the power to the performance to the handling, there is a lot to love about this car. While it is very stylish, it is also very functional. This is a great combination that makes the Nissan GT-R very much worth the money.
And speaking of the price, the sticker shock is not as bad as you might think. As Nissan and other car companies strive to jump start the auto market, they are making wonderful cars like the GT-R available at low prices.
The Nissan GT-R again features its advanced VR38DETT 3.8-liter twin turbo V6, which now produces 530 horsepower at 6,400 rpm and 448 lb-ft of torque from 3,200 to 6,000 rpm. It does all of this while sticking to strict emissions standards. This is quite a feat for Nissan.
At Briggs Nissan of Lawrence - the premiere Nissan dealership in the Lawrence, Kansas area - consumers can take the GT-R for a test drive and experience the high quality of Nissan. When it comes to sports cars and top of the line performance, Nissan knows where it's at.
# # #