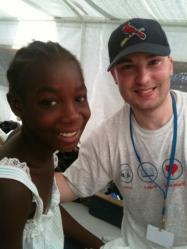 Companies like ProRehab and their caring therapists are the ones that keep the Jacmel Clinic running.
(Vocus/PRWEB) March 30, 2011
ProRehab is excited to announce their latest campaign of support to Haiti. As part of their continuing outreach to Haiti, ProRehab has committed to monetary donations to a physical therapy clinic in Jacmel, Haiti on behalf of their ten clinics throughout Evansville, Vincennes, Henderson and Madisonville. These donations are being matched by PT Development, a sister company, and will result in almost a 35% increase in donations to the Jacmel clinic.
In 2009, ProRehab began a program that provided tee-shirts to children in need of clothing in Haiti after four hurricanes impoverished the country. For every patient who completed their physical and/or occupational therapy treatment in the Vincennes and Indiana Street clinics, a tee-shirt was donated to Haiti. Patients were asked to sign the donated tee-shirts with words of encouragement for Haitians. Approximately 2,000 tee-shirts were donated during this initiative.
The devastating January 2010 earthquake in Haiti resulted in approximately 230,000 deaths and an estimated 300,000 injuries. Many countries and organizations rapidly responded with medical teams and service provisions related to care and rehabilitation of persons with disabilities.
ProRehab responded by sending physical and occupational therapists to Jacmel, Haiti, through PTHelpForHaiti.org. PTHelpForHaiti.org, a non-profit group dedicated to "Build Haiti Better," has sent many volunteer physical and occupational therapists to Jacmel, Haiti, since the earthquake. This includes Travis Farhar and Stephenie Dest, ProRehab occupational therapists, and Kathy Coomes and Natalie Hussman, ProRehab physical therapists.
"My recent trip to Haiti was an extremely rewarding and a truly worthwhile experience," states Farhar. "I am happy that I was able to use my clinical skills and knowledge to help a population that had never had the opportunity of receiving occupational therapy and/or physical therapy. The people of Jacmel were so appreciative and I feel blessed that I was able to have a positive impact on their overall quality of life."
Farhar treated many patients during his trip to Haiti, but one young girl in particular was especially memorable. She traveled for six days to reach the clinic for treatment for bilateral hand burns & severe flexion contractures of her hands. Farhar, her occupational therapist, only saw her once due to the distance she lived from the clinic, but provided night extension splints and a home program to improve her hand function. He recalls, "Her appreciation for treatment and positive attitude were remarkable."
The Community Coalition for Haiti (CCH) operates the clinic in Jacmel with assistance from organizations such as ProRehab, PTHelpForHaiti.org, and PT Development. This clinic is staffed by a full-time American physical therapist, Haitian rehab technicians, transporters and interpreters, and volunteers from both the United States and Canada. Employing Haitan workers allows this clinic to contribute to sustainable solutions in this earthquake ravaged area. The Jacmel clinic does not charge for equipment or treatment and is 100% donor supported.
The Jacmel clinic sees an average of 25-40 patients per day and provides a full spectrum of physical therapy services. Donations to the Jacmel clinic include much needed shoes, medical supplies and equipment. The clinic recently moved from a tent, where it was housed for one year, to a facility that it shares with two primary care physicians. These physicians are part of a collaborative effort with CCH and PT Development, necessitated by the recent cholera epidemic.
"Since the earthquake we have made giant strides in helping Haitian patients. ProRehab's donation campaign will assist the Jacmel Clinic in handling current challenges," states Larry Benz, PT, DPT, PT Development Owner, and substantial contributor to the Jacmel clinic operations. "We need continued monetary support to resupply durable medical equipment, continue to send volunteers to the clinic, and hire and pay both Haitian and expatriate staff. Companies like ProRehab and their caring therapists are the ones that keep the Jacmel Clinic running."
About ProRehab:
ProRehab is a private physical therapy practice with locations in Evansville, southwest Indiana and western Kentucky. Known for teaching and training physical therapists throughout the region, ProRehab physical therapists are proud that patients ask their doctors to send them to ProRehab for orthopaedic care. They deliver hands-on physical and occupational therapy based on the newest research to achieve the best results for patients with bad backs, achy joints, wounded hands, and sports and work injuries. Along the way, the ProRehab family has fun and makes friends with their patients; patients are actually sad to leave after their treatment is over! Find ProRehab on Facebook, @ProRehab on Twitter, and FourSquare.
###