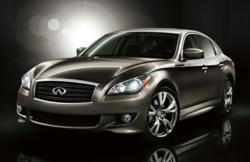 Lawrence, Kansas (Vocus/PRWEB) March 30, 2011
For those who have thought about a hybrid but didn't want a boring car that wasn't stylish, there may be something to smile about. When asked about the new, high performance Infinity M Hybrid, the sales professionals at Briggs Nissan of Lawrence - the leading Infiniti dealer in Lawrence, Kansas - said they were quite impressed.
From the fact that it is a hybrid to the fact that it is also high performance, there are many things to love about the car. If you know anything about Infiniti, you know they can build a high quality vehicle when they put their minds to it.
When it comes to the new Infiniti M Hybrid, they took their time coming to market and you can tell when you look at the small details. From the interior to the exterior to under the hood, there are many things that make the Infiniti M hybrid special.
"The new Infiniti M Hybrid provides the same level of luxury and performance as the rest of our lineup and builds on the strengths Infiniti has always been known for," said Infiniti Vice President Ben Poore.
"Style, luxury and performance will always be the cornerstone of everything Infiniti does."
Recent advertising commercials launched have highlighted the new hybrid. From the first hybrid in 1888 to the next 100+ years, the Infiniti commercials show the history of the hybrid vehicle in grand style.
The end result - at least for now - may be the Infiniti M hybrid. When looked at from many different angles, it is easy to see why so many are excited about this car. From the great gas mileage to the fact that the interior is comfortable and high-tech, there are many reasons to check out the Infiniti M hybrid more carefully.
Available this spring, the new hybrid is sure to set the bar for hybrids very high. While the Toyota Prius may be the current leader in some respects in the hybrid market, there are many things that point to Infiniti and their M hybrid becoming one of the best hybrids available.
The Infiniti Direct Response Hybrid system is a one-motor, two-clutch parallel hybrid system that delivers 360 horsepower and 32 miles-per-gallon - quite a combination.
The professionals at Briggs Nissan of Lawrence - the premiere Nissan and Infiniti dealer in Lawrence, Kansas and the surrounding area - are pleased that Nissan is going so far with hybrids. They invite the public to stop in and see the many fuel efficient models that Nissan has to offer in 2011.
###