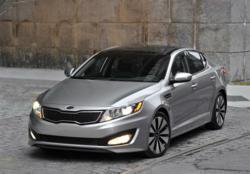 Topeka, KS (Vocus/PRWEB) March 30, 2011
When driving by the lot at Briggs Kia - the premiere Topeka, Kansas Kia dealership - people are going to see a lot of different models available. Two ones that might stick out are the Kia Optima Sedan and the new Kia Sportage, both of which recently won red dot design awards, which are quite prestigious.
● The new Kia Optima sedan wins 'best of the best' title
● The Kia Sportage claims a further red dot award
● Four Kia vehicles have now been honored with design accolades
"We are extremely proud of the red dot awards for the new Kia Optima and Sportage. They are a great acknowledgement of the hard work of our international design teams and an endorsement of our design strategy," says Peter Schreyer, Chief Design Officer, Kia Motors Corporation.
"Naturally, we are particularly thrilled about the 'best of the best' award for our new sedan. The Kia Optima exudes a bold, athletic energy and its blend of simple and fluid lines and elegant but uncomplicated shapes draw the attention of the eye in much the same fashion as a perfectly tailored, fine Italian suit."
When looking at all of the Kia models it is pretty obvious, but especially for the Kia Optima. There are many other reasons that the Kia is such a great car that's really hot right now around the world with sales increasing year over year.
Senior Executive Vice President & COO of Kia Motors Corporation, Thomas Oh, underlined the true significance of design in terms of Kia's market position. "These red dot design awards are a fantastic success for our brand. They represent yet another independent endorsement of the groundbreaking design and excellent value for money Kia vehicles offer. The special award for the Kia Optima, in particular, will surely add momentum to the ongoing launch our new sedan in the highly competitive D-segment across the globe."
Since 1955, the red dot awards have been highly coveted. That Kia is getting them for two vehicles is truly a wonder to many people, but not a surprise to current Kia owners.
Those who want to see the 2011 Kia Optima or any of the other great new Kia models just need to stop in at Briggs Kia - the premiere Kia dealership for Topeka, Kansas and the surrounding areas. For those who want a well designed car that's dependable at a price that's affordable should stop in at Briggs Kia to see the selection offered.
###