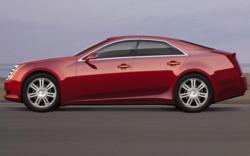 Kansas (Vocus/PRWEB) March 30, 2011
Asking the team at any of the Briggs Auto Group locations across Kansas what one of the most popular brands of luxury car is currently being sold, there is a good chance that the name Cadillac is going to come up more than once.
As the leading Cadillac dealer group throughout Kansas with eight locations, Briggs Auto Group is happy that the Cadillac DTS was named the most dependable large car by J.D. Power and Associates.
"DTS is part of a line of full-size Cadillac luxury automobiles known for their long-term quality and craftsmanship," said Don Butler, vice president for Cadillac Marketing.
"We're pleased to have this commitment to long-term reliability confirmed by a study that means so much to consumers."
An award or honor from J.D. Power and Associates is a very serious thing which Briggs Auto Group takes seriously. They are anxious to show off the Cadillac DTS to potential buyers throughout Kansas.
For the last six years, the Cadillac DTS (and its predecessor, the Cadillac DeVille) have had a place in the top three for the premium, large car market. And when looking at any of the last few years, the Cadillac's have been pretty amazing.
The 2011 Cadillac DTS is no exception. It is a very cool automobile that is stylish, dependable, powerful, and owns the road no matter what driving conditions are like. Those who sit behind the wheel or take one for a test drive are known to suddenly want to purchase one.
As for the award, it is quite prestigious. To come up with their listings, J.D. Power and Associates surveyed more than 43,700 original owners of the 2008 model year Cadillac DTS (and other vehicles) after three years of ownership to make sure they got a really accurate look at the vehicle.
For those living in Kansas, there are eight great locations for Briggs Auto Group. Their sales team can answer any questions consumers might have about the Cadillac DTS or any of the other great makes and models they keep in stock. For those looking for luxury, Briggs Auto Group is the place to shop in Kansas.
###