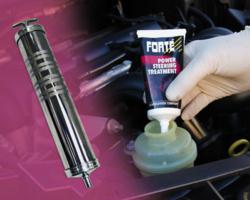 Forté has built an enviable reputation in providing the best engine treatments to the industry
Coventry (Vocus/PRWEB) 28 March 2011
Potholes have not been far from the headlines in recent months, following the frozen conditions which have lead to an increase in damage to the UK's road network and ultimately drivers' vehicles.
Experts at Coventry-based Forté said hitting potholes was the scourge of the modern motorist, causing potentially costly steering problems ie faulty wheel alignment, excessive tyre wear and suspension issues.
Phil Dugmore, Technical Manager at Forté, said: "We welcome the government's pledge to invest £100m in helping local authorities repair potholes. The fact remains, however, that many drivers have already gone through the unfortunate experience of hitting a pothole which can affect the steering of their vehicle. Likewise, low fluid levels or old, exhausted, or contaminated fluid can cause juddering, stiffness, or a whining noise from the Power Assisted Steering (PAS) system."
According to Forté, sales of expensive PAS components have increased by more than 40 per cent since 2006. Factory fitted power steering fluid breaks down over time, leading to component noise, wear and failure.
Free suction gun worth £10 for every case order of Forté Power Steering Treatment
To help independent garages, MOT stations and service and repair workshops further combat customers' vehicles that are suffering from steering problems, Forté has developed a 'Power Steering Service' and created point of sale material, ie posters and leaflets, for participating garages. Plus, Forté will give away a fluid suction gun for every case order of Power Steering Treatment.
Forté Power Steering Treatment works to eliminate PAS stiffness, shudder and noise, prevents oil leaks and provides smoother operation of the system. It also maintains optimum performance of the PAS pump and load bearing components by stabilising the PAS fluid.
Phil added: "Forté has built an enviable reputation in providing the best engine treatments to the industry. Not only do our products help technicians make a noticeable difference to a car's performance, they ultimately enhance customer satisfaction among the driving community. Using Forté Power Steering Treatment as part of our Power Steering Service continues this trend in making a real difference to the performance of vehicles throughout the UK."
###