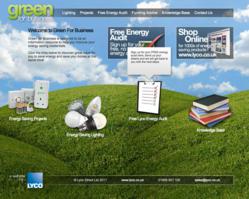 Lyco MD, Charles Barnett says: "Converting to low energy lighting offers a quick payback on investment. We've already helped many businesses save energy and money by advising on replacement lighting strategies - now advice is also available online."
Milton Keynes, United Kingdom (PRWEB UK) 29 March 2011
Do you know what a lumen is? Did you know that white light bulbs come in more than one shade? Do you know what type of bulb is suitable for your particular requirements? Do you know that traditional lightbulbs are slowly being phased out and will soon no longer be available?
http://www.greenforbusiness.co.uk acts as a detailed compendium on saving energy by installing the best lighting options. It incorporates a detailed timetable showing the phase-out schedule for clear incandescent bulbs (as soon these will no longer be available on the shelves), and suggests low energy alternatives. In addition it clearly explains the differences between LEDs and Low Energy light bulbs and lists both the benefits of switching over, and the pitfalls to avoid when making a product choice. For those thinking of starting an LED Replacement Project, the site guides you through the stages of the process and how much it could potentially save you.
To help people who are thinking of switching to low energy lighting, Lyco offers a free, no obligation energy audit. This entails helping you carry out a comprehensive lighting survey of your premises, calculating how much you will save by switching and recommending which energy saving light bulbs to use. The site also explains important details such as disposal regulations of all light bulbs/tubes that contain mercury, information on the Waste Electrical and Electronic Equipment Directive (WEEE Directive) and how Lyco offers a disposal service to assist you. Green for Business also has details of legislation regarding low energy requirements for new buildings and extensions.
Lyco Direct has 1000's of Energy Saving products available to choose from, including LED lights, Low Energy and Energy Saving bulbs.
For full details contact the Lyco Direct Low Energy Advice Team on 01908 651 100
###