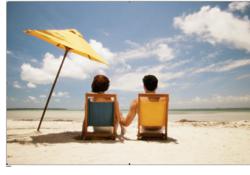 An unforeseen layoff or job termination can be a covered reason for Trip Cancellation or Trip Interruption...
East Hartford, CT (Vocus/PRWEB) March 29, 2011
The labor market is slowly improving in 2011 with the national unemployment rate falling below 9% in February for the first time in more than two years. Yet employees making plans to enjoy precious vacation time this year need to be aware that businesses restructure to become more competitive as the economy improves. Several major private and public sector employers have added layoffs this year, and more may require them as their operations are restructured or mandated budget cuts necessitate downsizing divisions due to lingering effects of the recession
Travel Insured International®, the leading independently-owned travel insurer, has the job loss protection solution that can provide coverage for the job loss of either the insured vacation traveler or his or her traveling companion. The coverage is an included benefit in all four retail plans under Travel Insured's Worldwide Trip Protector brand, including the comprehensive Worldwide Trip Protector, Worldwide Trip Protector Gold, Trip Protector Lite and Trip Protector Lite Expanded. The coverage means that when the insured or his or her travel companion with whom they are sharing travel accommodations suffers an unforeseen layoff or termination they have a covered reason for Trip Cancellation or Trip Interruption provided they have held continuous employment for one year or more at the place where the job is lost.
Cancel for Work Reasons
A second job protection coverage for travelers, available in each of the four Travel Insured plans, is the optional Cancel for Work Reasons upgrade. This coverage, available for an additional $24 per person, allows for Trip Cancellation protection benefits up to the limits of their policy when one of the following unforeseen job disruptions happens to either the insured or his or her traveling companion:

One of them is transferred by the employer for whom they work at the time of the policy effective date and the transfer requires relocation of their primary residence.
One of them is required to work during the scheduled trip as legally documented by their employer.
One of them is directly involved in the merger or acquisition of a company for which they are actively employed.
One of them has their employer's business operations interrupted by fire, flood, burglary, product recall or a default or bankruptcy.
Each of the Travel Insured International® plans specifies additional unforeseen events beyond job loss or mandatory work conflicts that can be covered reasons for Trip Cancellation or Trip Interruption. Coverage is also possible for:
Except in the Trip Protector Lite plan an unforeseen bankruptcy or default of the travel supplier can be covered.
A Terrorist Attack within a city on the group's pre-set itinerary.
A natural disaster at the destination that renders accommodations uninhabitable.
The death or hospitalization of the insured's destination host.
A hijacking or quarantine of the insured or his or her travel companion, or their being required to serve as a jury member or appear in court as a legal witness.
Weather, or an unforeseen strike, causing cessation of travel services for 24 consecutive hours.
Each plan includes additional coverage, with maximum benefits specified in the selected plan, for Trip Delay, Baggage & Personal Effects loss, Baggage Delay, Emergency Medical Expense and Medical Evacuation and an optional medical upgrade. Most plans come with "Kids are Free" coverage for one or more child under age 18, depending upon the plan, per related adult who is a traveling as the primary insured on the same plan. All of the plans also come with Worldwide Emergency Medical Assistance, available 24/7 with a free call from anywhere the insured is traveling.
The year 2011 provides many opportunities for vacation bargains as lingering high unemployment continues to make economic recovery a slow process. Protecting hard-earned vacation dollars means buying the travel insurance peace of mind, including job loss coverage and cancel for work protection, that allows you to enjoy leisure travel time even when job security is never certain.
About Travel Insured International®
Travel Insured International®, based in E. Hartford, CT, was founded in 1994 by the foresight of insurance industry executive Peter Gehris when he acquired the travel protection division of the Travelers Insurance Company. Coverage is underwritten by Arch Insurance Company (a Missouri corporation, NAIC #11150) with executive offices located in Jersey City, NJ. Arch Insurance is rated A ("Excellent") for financial strength by the insurance rating service A.M. Best. Not all insurance products or coverage is available in all jurisdictions. Coverage is subject to actual policy language
Travel Insured International®
52-S Oakland Ave.
E. Hartford, CT 06128-0568
Contact: John Stone
Media Relations Manager
###