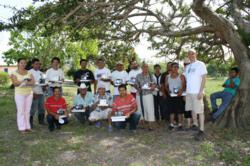 "Now I will have light and not have to struggle to read my homework."
(PRWEB) March 31, 2011
The residents anxiously gathered on the river bank. The Grid Earth Project volunteers were pleased with the response and happy to donate the solar powered household lamps as part of their mission to eliminate dependence on toxic kerosene for lighting in their homes.
Until now, the people of this village have depended on kerosene and candles to provide light after dark. In many situations, homework and other necessary activities would go unfinished. This was a simple solution Grid Earth Project was proud to provide at no cost to the residents of Nagu Bank.
The Grid Earth Projedt is a US based Charity whose mission is:
To save lives, improve health and educational conditions, and stimulate economies in underdeveloped areas of the world by providing solar-powered household lighting and increased opportunities for commerce.
There is now one more village using clean, sustainable & safe lighting. Grid Earth would like to extend a special thanks to the Belizean Ministry of Rural Development, LEDtronics, Inc. and to the people of Bomba Village.
You can support the Grid Earth Project, http://www.gridearth.org today with a donation to help fund more safe lighting projects.