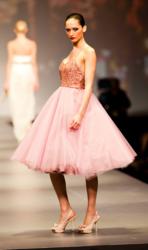 Los Angeles, CA (Vocus/PRWEB) March 30, 2011
The evening opened with the work of five theatre costume design students. Two 12 by 18-foot Aztec Kites led a samba-danced procession of forty dazzling costumes evoking the color and excitement of "Carnivale in Rio." The designs included elaborate, handmade bejeweled and feathered costumes, including a gilded King and Queen of Carnivale.
Rio-inspired Carnivale costumes, Edwardian menswear, and New England kids' knickers were just some of the styles that graced the runway at FIDM/Fashion Institute of Design & Merchandising's annual DEBUT Runway Show at the Barker Hangar in Santa Monica, California.
Ten graduating students in the Advanced Study Fashion Design Program presented their worldly collections to thousands of fashion industry notables, community leaders, and colleagues over the 3-day event. There is no other student runway show like it on the West Coast.
A fabulous global vibe echoed throughout the collections as the students drew on their rich cultural backgrounds and inspiration from the far reaches of the earth. From Paris and Russia to Manhattan and Hollywood, guests were treated to a visual feast of fashions and fabrics.
Knitwear Design Student Adelle Burda said her collection was "inspired by people in the rural communities of the former Russian Empire—their color schemes, their patterns, their fanciful embroideries." Originally from Zimbabwe, Pamhidzai Mbanga's collection recalled the ethnic qualities of Africa, with a British tailoring influence. More than 100 garments and other design projects were presented in a three-part runway show.
The "Chairing Styles" portion of the show highlights FIDM's multi-disciplinary approach to education. Thirty students in three disciplines—Textile, Fashion, and Interior Design—collaborated to create ten sets of original matching garments and chairs. The runway display was presented with Cotton Board/Cotton Incorporated, who awarded $20,000 in scholarships.
The event wrapped with a gala dinner and scholarship fundraiser, benefiting the FIDM Scholarship Foundation, a non-profit organization, assisting students with the completion of their fashion college education.
With four dynamic California campuses, FIDM/Fashion Institute of Design & Merchandising is the premier west coast fashion design school, educating for careers in fashion, graphic design, interior design, and entertainment. FIDM's graduates include renowned fashion designers like Monique Lhuillier, Emmy® and Academy Award® award-winning costume designers, top fashion industry executives, and entrepreneurs.
###